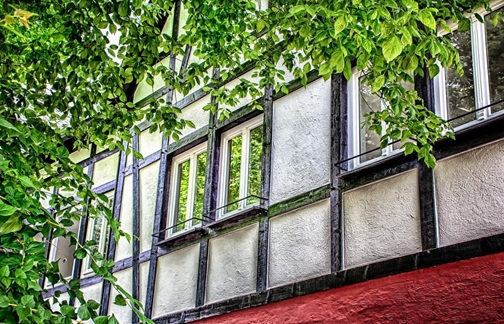 The windows are one of the first things we see in a property. No matter what type of property you have, regular window cleaning is one of those chores you should not skip in your property maintenance routine.
It doesn't matter if you have a residential or commercial type of property or whether it is mid-rise or high-rise building, the condition of its windows is one of the things you should pay attention to.
Even the appearance of the most perfectly cleaned property can be spoiled by windows covered with smudges and stains.
Window cleaning isn't one of the things most of us are looking forward to doing. Window cleaning is a chore that should not be skipped as it plays an important role for the proper maintenance of every type of building.
To enjoy an unobstructed view you should devote some time and effort in cleaning your windows regularly. The less frequently you are cleaning your windows, the more stubborn their dirt will be for cleaning.
It's true that window glass can be sometimes challenging for cleaning especially if we are talking about exterior windows . They are subject to the whims of weather all year round.
Exterior window glass is constantly attacked by dirt, grime, dust, water spots, dead bugs, bird droppings and other types of dirt. Fortunately there are some easy methods in which you can clean the most stubborn of dirt film on your exterior windows.
Well-cleaned windows provide your room with natural light and they also improve the curb appeal of your property.
Regular window cleaning always adds up to your property's value. And it's especially recommended to be done for exterior windows as they tend to get more dirty over time in comparison to interior windows.
For this reason you should try to clean your exterior windows regularly by applying the right approach.
Exterior window cleaning is different from cleaning indoor windows. As they have more stubborn for removing dirt and stains than interior windows. In this article we will give you some helpful tips for effective exterior window cleaning.
There is a number of things you need for your exterior window cleaning
What you need:
Garden hose
Bucket
Cold water
Liquid dish soap
Soft microfiber cloth (make sure it's lint-free to get a streak-free result)
Sponge mop (microfiber mop or soft cotton mop)
Disposable dust cloth
Pole
Commercial window cleanser
Clean squeegee (make sure it's rubber-bladed)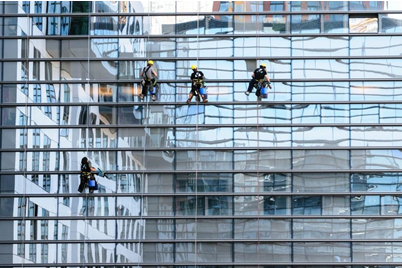 Cleaning exterior windows: Step by step instructions
To prepare your exterior windows for cleaning you need to rinse them first with a hose. This step will remove the accumulated dust and dirt particles on the glass surface.
The next step is to fill a bucket with water mixed with a few drops of a dish soap. Now get a soft microfiber cloth and clean the entire surface of the window. Scrub the entire window glass surface.
If your exterior windows are located at a high place, it's a good idea to use a sponge mop adhered to a pole. When you are done with removing the dirt film, get the hose and rinse the window surface in a thorough way.
Get the vinegar and water solution and spray the window glass surface. For this step you can either use a vinegar and water solution or a commercial window cleaner to spray your exterior window glass.
Vinegar and water solution is the most preferred option as it's completely natural and it can be used on a variety of window glass surfaces. After spraying the entire window surface, you need to wipe it. Get the rubber-bladed squeegee for this purpose. You should hold it in such a way so that it's angled to the bottom of the window and clean the surface from top to bottom.
Prepare a clean and dry towel that is lint-free. You should wipe the squeegee with the towel at the bottom after each pass to avoid spreading the dirt on the window.
As you know newspaper is a great affordable window cleaning tool. So you can use newspaper pages to dry the window glass surface in an effective way.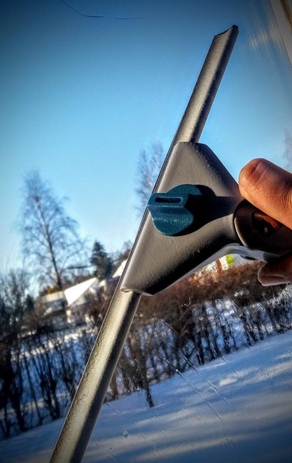 If there are stubborn stains on your exterior windows, to clean them completely you need to use a cleaning solution made of vinegar and water. Bird droppings are one of those things that can be really stubborn for cleaning. Vinegar solution should help you get rid of them.
Just put vinegar solution on top of the dirty area and let it stay for a few minutes. The vinegar will saturate the dirt and loosen the dirt particles. Afterwards you will be able to clean them in an easy way. Another way to remove stubborn dirt from exterior windows is to use a type of soft sponge called scrubbie.
Avoid using steel wool or rubbing cloths that are harsh as these can have a damaging effect on the glass surface. Choose soft cloths and towels instead that are lint-free and can be used for window cleaning.
Don't miss to clean the window screens as they can also spoil the good look of exterior windows.
Use plain water to rinse the screens of your windows. After you rinse them use water and vinegar cleaning solution in a spray bottle. Spray some amount on the window glass and rinse again with pure water afterwards. Allow it to dry properly and then put the screens back on their places.
If there is a mineral deposit on your exterior windows, you can use several methods to clean it efficiently. One of your best options are commercial window cleaning products. Some window cleaners that are sold at most household stores can clean lime, calcium and rust stains.
You should always follow the manufacturer's instructions when you use some type of commercial cleaning product.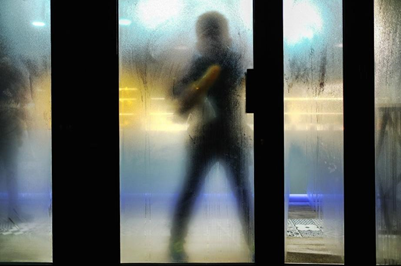 What tools are effective for exterior window cleaning?
One of the most innovative window cleaning tools you can find currently on the market are magnetic window cleaners. These handy tools are very suitable for people who need to clean the exterior windows of high-rise buildings.
It's true that cleaning the windows of a high-rise building is a risky job and it requires some skills and the use of safety window cleaning gear. Balancing on a window sill on the outside while trying to clean properly dirt-build-up on window glass at the same time definitely involves a certain level of risk.
So magnetic window cleaners are perfect for cleaning windows that cannot unlatch or lower into the room. These tools can help you clean both sides of a window glass without any risk to your safety. The use of magnetic window cleaner also minimizes the risk of property damage.
Another great tool for window cleaning that everyone has in their home is a standard mop. You can use it with a vinegar and water cleaning solution. Get a mop head or microfiber towel and attach it to a mop handle.
Now scrub your exterior windows with the mop until the dirt build-up is gone. Spray the window glass with a commercial window cleaner and wipe it with a microfiber cloth.
Allow the window to fully dry and get a newspaper. Wipe the window with the newspaper for a shiny streak-free result.
Your best option for cleaning high-rise windows is always to use professional window cleaning services. Professional window companies will save you valuable time and effort and provide you with perfectly cleaned windows on the inside and out.