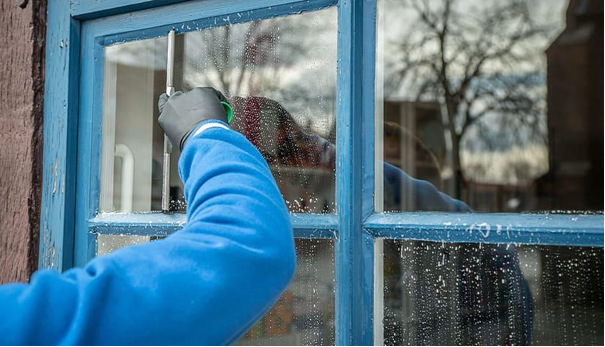 Everyone will agree that well-cleaned windows always improve the appearance of our home or commercial building. Crystal clear windows always create a good impression and a welcoming atmosphere. Regular window cleaning offers many benefits not only to our property, but also to our health.
Window cleaning is a chore that can be sometimes time-consuming if we are not using the right window cleaning products and tools. It seems like an easy task but it still requires the correct cleaning products and tools.
Streaks are the enemy of cleaned windows. Even when the windows are cleaned in a perfect way, tiny streaks here and there can spoil their good appearance.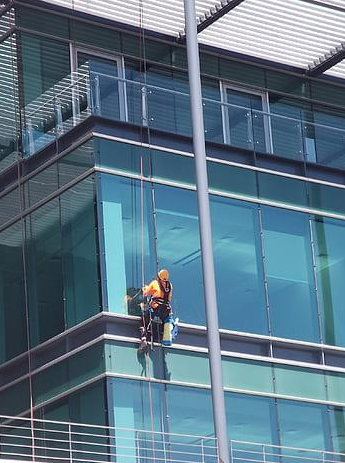 Sometimes even when we make sure we clean our windows properly and use a famous commercial window cleaner, there are some streaks left. Fortunately there are some ways to clean windows without getting any streaks. Window cleaning shouldn't be too complicated.
Window cleaning is important if you want to keep your property in a good condition. You should clean your windows regularly to ensure their good state and maintain the attractive appearance of your property.
Cleaning experts recommend us to clean windows once or twice a year. But the frequency of cleaning depends on the type of building (whether it's residential or commercial), its location and surrounding environment.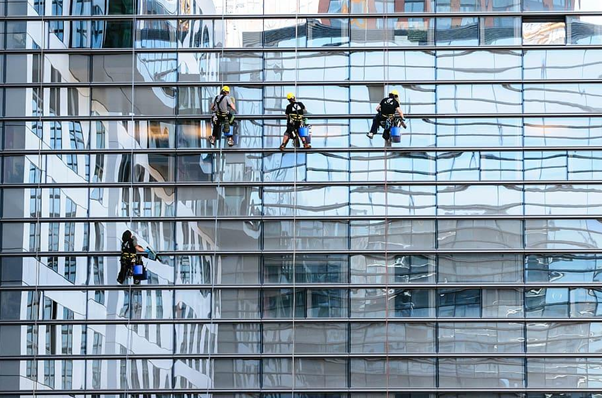 No matter what type of property you have, regular window cleaning is an essential part of its proper maintenance. Streaks are one of the things we don't want on our windows. For this reason you need to use the right products and tools for this task.
As to how often you should clean your windows depends on the area your building is located. The windows of a building can get very smudgy after a long winter or a rainy season.
For example, trees and shrubs around your property, a construction in process, a main road, a park-all these determine how often and to what extent the windows of your property will become.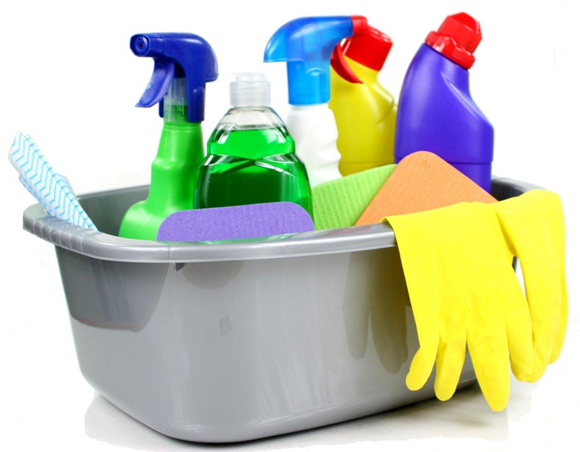 There are many window cleaning products available on the market. You don't need to invest much money in window cleaning products.
There are a couple of homemade cleaning solutions for windows that are actually effective and do not leave streaks. They achieve great results when it comes to streak-free window cleaning. You can prepare them at home in an easy and convenient way, they are not very expensive and can be found a most home stores.
You don't need a lot of cleaning products and tools to clean your windows effectively. Only the most important and essential ones.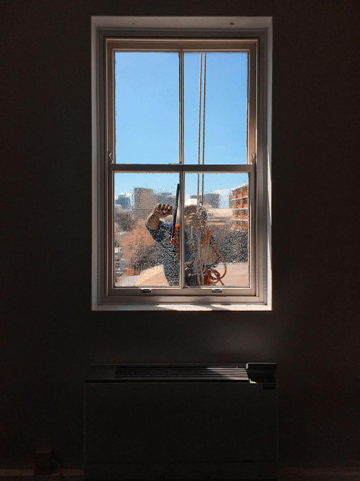 Steps for effective window cleaning without streaks
Effective window cleaning that doesn't leave any streaks involves the use of a cleaning solution. The first step in cleaning your windows is to remove the accumulated dirt and dust on the window glass. Use a soft cleaning brush or a vacuum cleaner and remove the dust layer on the windows.
By cleaning the dirt and dust on your windows you can avoid getting muddy spots as you start cleaning with the window cleaning solution.
If your window screens are really grimy, get a soft brush and use it in combination with hot soapy water. Remove them from the windows, Clean them with this mixture and put them back on their places.
The next step is to use a generous amount of cleaner and spray on the window glass. It should have a powerful formula to get rid of the window dirt but it shouldn't be too harsh on the glass.
Spray a generous amount of your chosen window cleaner so that it can dissolve all of the dirt properly. If you use just a little amount of window cleaner, streaks are still likely to happen.
Homemade window cleaner No1
Make a mixture of one part distilled vinegar to 10 parts warm water and put it in a spray bottle.
Homemade window cleaner No2
2 gallons of hot water
1/4cup ammonia
4 tbsp rubbing alcohol
½ bottle of a commercial window cleaner of your choice.
1/4dishwasing detergent
To apply this solution you need a spray nozzle/hand sprayer that is powerful. Get a brush with a long handle and dip it into the solution. Start scrubbing the window glass carefully.
Then spray it again to rinse it. Leave the window to air dry completely. There is no need to wipe it. You can choose to use a squeegee to clean it again at the end.
As some of you may already know vinegar has a powerful cleaning effect. It is completely safe to the environment and it offers great results in different household cleaning tasks.  One of the greatest advantages of vinegar is that it can be used for cleaning different parts of a property, even the windows.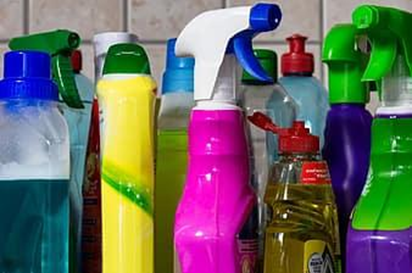 Vinegar window cleaning solution No3
¼ cup white vinegar
2 cups of pure water
½ tsp dish detergent
To prepare this cleaning mixture you need a bucket, an extension pole (this is optional), scrub brush, garden hose, spray nozzle attachment (optional), a ladder.
This cleaning solution can be prepared either in a spray bottle or a bucket. If you have an extension pole for cleaning your windows, you don't need to bring a ladder.
Vinegar window cleaning solution No4
½ cup apple cider vinegar or white vinegar
¼ rubbing alcohol (70% concentration)
Combine all of these ingredients into a spray bottle
2 cups of pure water
Extra tips for effective and streak-free window
Make sure to use a scrub brush with soft bristles so that you won't risk scratching the window glass. You can also use a sponge instead.
When cleaning a window glass with a cleaning solution, wipe one side of the window vertically and the other horizontally. In this way if some streaks appear, you will easily know whether they are on the outside or on the inside.
The easiest way to clean windows is to divide the task and complete it room by room especially if you have many windows that need cleaning.
To prepare this solution mix white vinegar, water and a dish detergent in a bucket. Get a scrub brush with soft bristles and attach it to an extension pole.
If you want  to clean your high-rise windows in a safe way, you can skip the ladder and use a long arm extension pole instead. The great thing about extension poles is that you can attach different cleaning tools to them-different types of brushes, rollers and other.
Dip the scrub brush into the bucket and start scrubbing the window. Don't let it dry completely. Rinse the glass surface with clean water thoroughly. In this  case if you are cleaning your windows on the outside you can use a garden hose with a sprayer attachment for best results.
If you are cleaning them on the inside, make sure to prepare a sufficient amount of water for rinsing. To clean window glass indoors in a safe way and avoid excess moisture, get  a separate spray bottle for the cleaning solution and a separate spray bottle for the rinsing water.
Another helpful tip is to avoid cleaning your window when it's sunny. Don't clean them when the sun is shining directly. That's because the blazing sun makes the windows hot and the cleaner we spray on them dries off more quickly.
As  this happens, hard-to-remove streaks are  likely to appear afterwards. For this reason it's recommended to clean your windows during a dry and cloudy day in order to avoid getting streaks on your windows. After you finish rinsing your windows, use a towel to dry the window glass completely.
If you want streak-free cleaning results for your windows, avoid paper towels for cleaning. Use lint-free towels instead or microfiber towels. Reusable microfiber towels are a great option for cleaning window glass without any streaks.
If you prefer paper towels, make sure to pick up towels that are designed for window cleaning. They should not  fall apart and leave lint on the glass.
When choosing a microfiber towel, opt for such with a honeycomb texture. It's really effective against water spots and smudges and it doesn't leave any streaks. A perfect cleaning item for windows and mirrors.
If you are cleaning your windows on the inside, avoid using a squeegee. Although it's considered an effective window cleaning tool and most professional cleaners use it, it's not really suitable for indoor window cleaning.
Cleaning with a squeegee creates water drips which can lead to moisture inside the building. Avoid using it on small window panes. It's more suitable for cleaning the outside of the windows.
Tips for efficient cleaning of the inside of windows
Cleaning the inside of the windows shouldn't be a challenge. You just need to fill a bucket with cold water and add a few drops of liquid dish soap.
Get a large towel and put it beneath the window you need to clean. Get a clean microfiber cloth or a sponge and clean with it the surface of the window to remove the dust.
Work from the top of the window down to the bottom. Spray the entire surface of the window with the cleaning solution.
Now you should use a lint-free towel or a paper towel to dry the excess moisture on the window. Work with a Z-shaped movement. If there are still streaks left, repeat the process of spraying and drying.