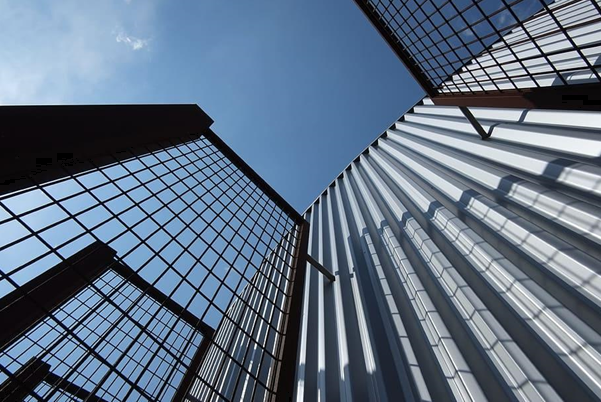 There is no doubt that regular window cleaning is important for the good condition of our home or office building. It offers numerous benefits both to the property and your well-being.
The lack of proper and regular window cleaning can result in different issues such as window glass and panes damage and also it shortens a window's lifespan. It can also lead to damaged window structure and you may  need expensive window repairs or fully  replace your windows.
It's recommended to use the services of a professional cleaning company if you wish to have perfectly cleaned windows and save your property from damage. This is true especially if you have a high number of windows for cleaning. There are many good reasons to choose to hire professionals to clean your windows.
Regular window cleaning is highly recommended since dirt accumulates over time. When window dirt is left uncleaned for a long time, it will be more difficult to be cleaned afterwards.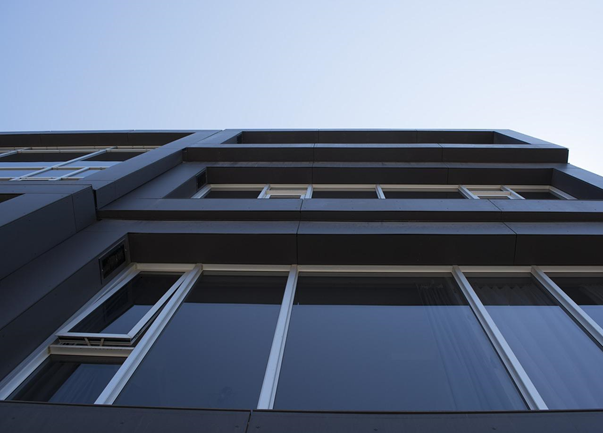 No matter what type is your building- commercial or residential,  high-rise, mid-rise or  low-rise, keeping its windows well-cleaned all year round is essential. You should trust the cleaning of your windows in good hands to avoid future property damage.
Windows with smudges and dirt can spoil even the most well-cleaned property inside and out. We know well that shining windows always improve the curb appeal of a residential or commercial property and make a positive impression upon customers.
And you will agree that it's not pleasant to work in a building with dirty windows. Window dirt  does not only spoil the view, but it can also pose damage to the window glass surface.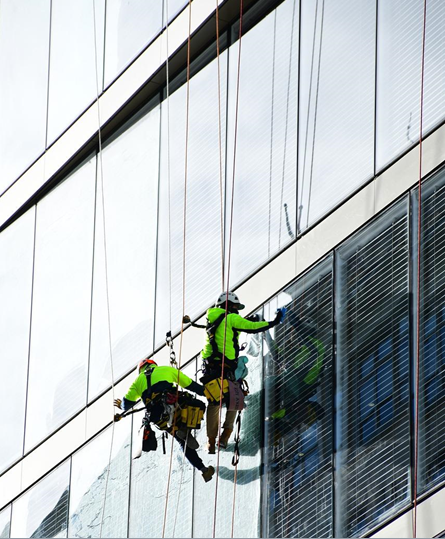 First and foremost, we need to choose a reliable window cleaning company that offers services which will suit our window cleaning needs. It's important  to choose a window washing company that you can trust and that you know will provide you with the best service.
It's way more safe and the company's teams will complete the job quickly than you. They own high grade specialized cleaning equipment and machines which makes it possible to achieve desirable results.
There are many advantages in trusting window cleaning experts rather than doing the job yourself. But it's important that the window cleaning company you choose is trustworthy and qualified.
Sometimes when we try to clean our windows by ourselves we cannot reach some parts. And when we  finish cleaning and check the windows, often we still see remaining smudges and stains here and there. Even if you use the necessary protective tools, there is still a risk of injury or property damage.
In order to get perfectly cleaned windows, you need to use a professional window cleaning service as they use specialized window cleaning equipment.
Because  it's an important decision, there are a couple of factors to consider when looking for the best window washing company. Good window cleaning companies share certain characteristics.
Picking out the right window cleaning company isn't easy. Windows should be cleaned with care and in a quality way.
As window cleaning involves certain risks, it's necessary to use safety gear. Reliable window cleaning companies take all the necessary safety measures to ensure the security of both your building and its workers. Window cleaning companies save you accidental slips and falls in the window cleaning task.
Specialized cleaning companies use professional grade safety gear when performing window cleaning. They are also armed with the right cleaning products that can handle all types of window dirt and debris.
Tips how to choose the right professional cleaning company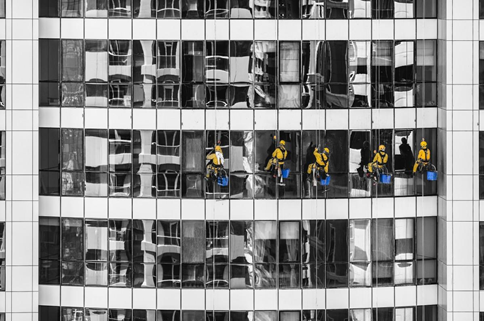 Valid certificates
You need to choose a qualified window cleaning company if you want perfect results for your property. A reputable window washing company should be able to offer some documentation that shows they are legal. Certifications are one of the signs of a good window cleaning company.
Rich experience
Expensive window cleaning equipment isn't the only thing that makes a window cleaning successful. When looking for the best window cleaning company for you, you need to check how long each company has been in the business.
Experience is valuable when searching for a good window cleaning company. When it comes to window cleaning companies, you don't need a degree to offer high quality window cleaning services. Professional window cleaning companies that fall in the category of trusted companies have at least five years of experience. 
Professional skills
Window cleaning company workers should own the right skills needed for a successful window cleaning. As you know experience brings skills and knowledge. Experienced window cleaning experts know how to approach cleaning of different types of window surfaces.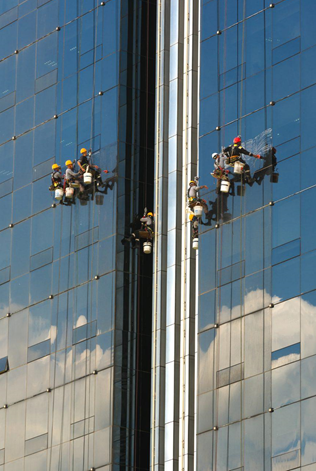 Tempered glass for example needs careful handling during the cleaning process and small mistake caused by a razor blade can be costly for repairing.
Experienced window washing companies  know well how to handle different window cleaning equipment such as ladders. They should work with it in such a way so that it won't damage the exterior of your home. Rich experience allows cleaning company workers to offer attention to detail which is important.
Proper insurance
Another thing to look for in a window cleaning company is  insurance. Window cleaning is a risky job with no doubt and the likelihood of accidents is high.
Good window cleaning companies have liability insurance.  Even if a small accident happens, the owner of the building can be held accountable for the given injury that happened on their building.
That is why you should look  for a contractor that is fully insured. Insurance isn't cheap and when a window cleaning company's workers are insured, this is a sign that this company is trustworthy.
Service price
Sometimes you may be tempted to choose the cheapest options window cleaning companies offer you. A trustworthy contractor offers reasonable prices for its services.
The standard  cost for window cleaning is between $2 and $7 per pane. The price should not be too high but not too low either. For full house window cleaning you can expect to pay around $266.
Wide range of services
Windows come in different types and sizes. And for this reason a good window cleaning company utilizes different window cleaning approaches and techniques. Reputable professional cleaning companies use different techniques and equipment when it comes to cleaning different types of windows.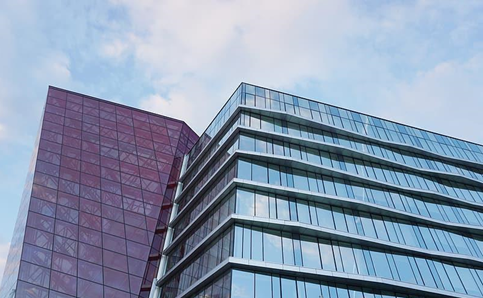 Quality results
Finally, no one will disagree that quality and end result matters most when it comes to window washing services. No matter how famous a window cleaning company is or how many certificates it has, a quality result speaks by itself. Reputable window washing companies take care of the details when working on their projects.
Window cleaning services should also include the cleaning of sills and frames. Good cleaning companies also take care of the inside parts of the windows. They also offer their customers a carefully prepared detailed quote.
Positive feedback
Sometimes first-person references can be really helpful when looking for a reliable window washing company. They can help you get an idea of what image a window cleaning company has.
Trusted window cleaning companies always offer evidence of their successful cleaning projects in the past. They should not keep in secret their past accomplishments.
It's wise to read some reviews by previous customers of the window cleaning company. Check for things like photos of past window cleaning projects, videos.
If a company doesn't have many references, this can be a sign that it probably has little experience in the window cleaning industry.