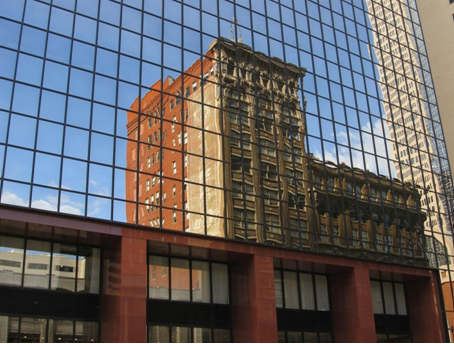 Everyone will agree that a perfectly cleaned building makes a good impression. That attractive look is achieved by regular and proper cleaning of the building's exterior windows.
If you are a home or business building owner you are likely to wish to have a beautifully-looking commercial or residential building that makes a positive impression upon customers  and residents.
Well-cleaned windows provide you with numerous benefits to both your business, your health and the well-being of your customer, employees and guests.
There are different types of window glass. Each type of glass has its characteristic features and requires a special approach when it comes to its effective cleaning.
Regular window cleaning is important for the proper maintenance of every type of property. As it is with all types of window cleaning, reflective window glass cleaning should be also performed regularly to ensure a well-maintained look of your property all year round.
You should know that reflective window glass needs a special type of cleaning to ensure an efficient cleaning.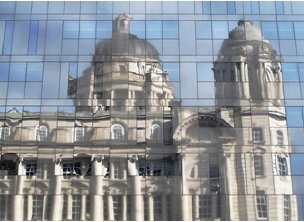 Reflective windows also called (low-E glass) have their specific features and consequently a special cleaning approach. This type of glass needs a certain cleaning approach in order to retain its beautiful look.
Reflective window glass is almost the same as standard window glass but it has a thin metallic film on one of its sides. This metallic coating is fused on the window glass.
Reflective window glass offers you great benefits no matter if you have a residential or commercial type of property. Besides a beautiful reflection, reflective window glass offers you high performance for your windows and low energy bill for your household or business.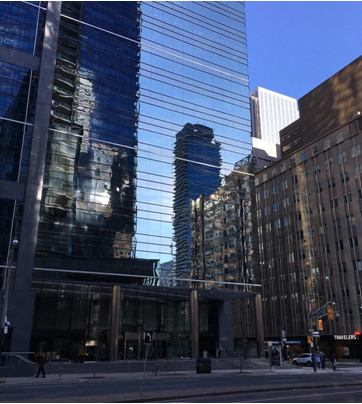 What is low-E glass?
Reflective glass was initially used for commercial office buildings as a way to increase energy efficiency by reducing heat loss as much as possible.
Low-E glass falls in the category of energy efficient type of glass and this window glass type has an low-E coating which was created with the purpose to decrease the amount of ultraviolet and infrared light that is entering the room through the window glass. But this window coating doesn't decrease the amount of light that comes through the glass.
Low-E glass is equipped with a microscopically thin coating which has a transparent surface. It's thinner than a human hair and it's one of the best window glass types you can choose for your building.
The main role of this thin coating is to reflect the heat. It reflects the interior heat back inside the property. Low-E coating helps you keep a consistent temperature in your home as it reflects the interior temperatures back inside.
This  great feature makes window glass with a low-E coating a perfect option for those property owners who want to save on energy bills and are looking for an energy efficient type of window glass.
Energy-efficient glass is suitable not only for homes or small low-rise buildings but also for mid-rise or high-rise commercial or office buildings.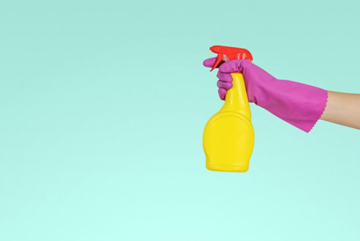 As you know energy efficiency is an important factor in a building. According to the experts  70% of energy loss in a building happens through doors and windows and 90% of the window heat loss happens through the glass.
There are different types of low-E glass for windows and your choice will depend on the area where your building is located.
Low-E coating helps you save money, boost the performance of your windows and decrease your energy bills. It also prolongs the life of the furniture inside your building and stops the natural fading process of décor and furniture by stopping the harmful UV rays coming from outside.
There are different types of low-E coatings as well. Softcoat Low-E coating  keeps the warmth inside the property during the winter season and during summer keeps the solar heat and UV rays out of the building's interior while allowing only the visible light to enter.
Types of low-E coatings for window glass and how they are manufactured
Solar control low-E coating -Soft coat
This type of low-E coating is created with a special technological process called Magnetron Sputtering Vapor Deposition (MSVD). It has the highest performing solar control. During this process the coating is applied on a pre-cut glass in a vacuum chamber. This process is performed at a room temperature.
Solar control low-E coating is sealed in a laminated unit or insulated glass (IG).This type of soft low-E coating characterizes with excellent solar control performance and lower emissivity.
Passive low-E coating – Hard coat
Passive low-E coating is created with a pyrolytic process which gives its pyrolytic coating. During its production on the float line, the coating is applied on the glass ribbon. This process establishes a fusion between the coating and the hot glass surface and it creates a strong bond between the two. As a result of this fusion the coating on the glass has increased durability.
When considering which type of low-E coat is best for you, you should first consider what type of window glass will be most suitable for your building.
Cleaning reflective glass isn't too complicated of a task. If you decide to perform your reflective window glass cleaning by yourself, then you should follow the next cleaning steps.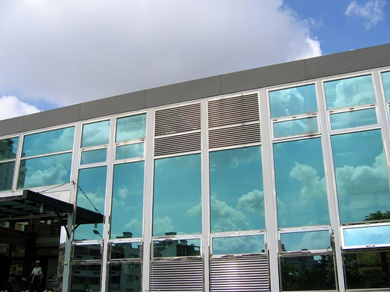 Reflective glass leaning: Steps
1.Routine cleaning
That first step is needed to remove the visible fingerprints and dust on the glass and prepare the surface for the next steps.  All you need  to complete this step is  plain water, water mixed with a little dish detergent and 10:1 water to vinegar solution.
Fill a spray bottle with pure water and spray on the window glass on its top and bottom part to get rid of the accumulated small dirt and dust particles.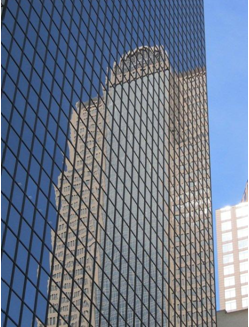 Get another spray bottle and fill it with a mixture of  water and dish detergent.  Spray from this soapy water on the window glass surface.
If there are stubborn stains on your glass, fill the spray bottle with the 10:1 vinegar solution. Rinse generously with pure water.
Now get a lint-free cloth and wipe the excess water. For a streak-free result leave a thin film of moisture on the window glass and wait until it evaporates. Make sure there are no water drips on the glass, just a thin film of moisture.
2. Spot cleaning
This step is needed to remove the stubborn dirt  that cannot be removed by routine cleaning only. For this step you need acetone, denatured alcohol and mineral turpentine that have a powerful action on different types of dirt. Pick one of those solvents for your cleaning task.
Get a lint-free cleaning cloth and wet one of its corners with the solvent of your choice.
Then rub the dirty spot you want to clean with the cloth in a gentle way. Stay away for painted surfaces while cleaning to prevent the solvents from reacting negatively with the paint.
3.Cleaning stains and scratches
Low-E glass can be easily damaged by metal objects such as scourers, blades, rings, watches and other things. Stains and scratches caused by metal can be removed with a 99:1 cleaning solution containing   hydrochloric acid and water.
When preparing this cleaning solution, add the acid to the water first and not the other way round. Get a lint-free cloth and dip it in the 99:1 solution. Then gently rub the scratched or stained spot on the window with cloth.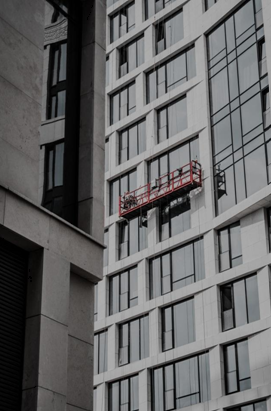 There are certain things that are not recommended for use on reflective glass. These are alcohol-based products, abrasive cleaners, powder-based cleaners, ammonia-based products, acid-based cleaners, objects made from metal such as scourers, scrapers, blades or squeegees, harsh alkali.
When it comes to window cleaning there are many reasons to choose the services of professional cleaning companies.
Professional cleaning companies use the latest window cleaning  equipment and special techniques to ensure perfect end result and handle even the most stubborn window dirt. They can provide you with quick and efficient window cleaning services.