Pressure washing services are very effective when you need to clean various surfaces inside or outside your home, such as vinyl siding or garage doors, interiors, and exteriors of your business or home. The frequency at which you would require those services varies according to many factors.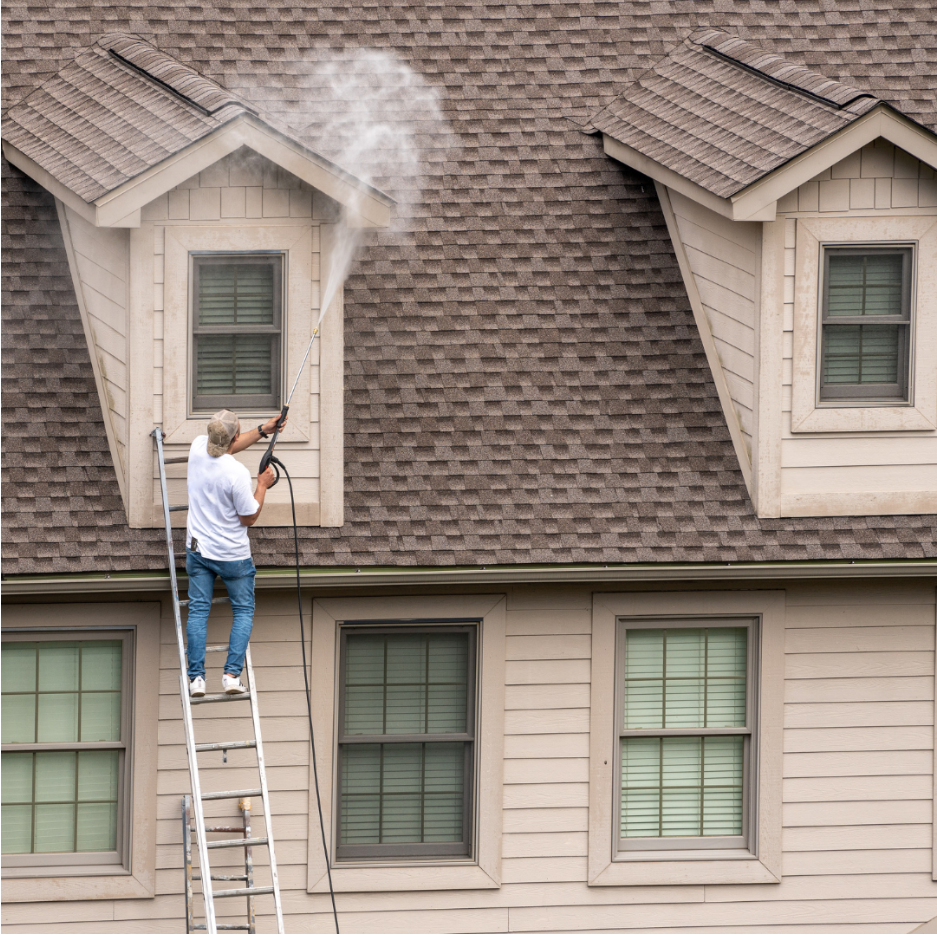 Image Source: Canva
Some of the elements professional cleaners consider to determine how often a particular cleaning job should be performed include:
Type of property;

The environment;

Specifics of the surfaces requiring cleaning.
Understandably, most people want to determine the ideal frequency of cleaning services because they can prevent a lot of undesired problems ranging from health issues to costly repairments. Planning is directly connected to saving money, time, and energy.
In this article, we are going to consider the differences between residential and commercial properties, the signs indicating the need for cleaning, what effect seasons have, and special cases that may occur – all to point you to the best frequency of washing services.
When considering all factors, remember that a pressure washing company provides professional services, and their advice on maintenance frequency is crucial in building your strategy, whether you are a homeowner or you run a business property.
Sky SWC is a company with extensive experience in power washing, and our advice on how often you should use professional power washing services is based on experience and best practices. However, frequency is nuanced and depends on many factors. If you want our professional consult, do not hesitate to contact us.
Determining the Ideal Frequency
Consider essential factors to determine the ideal frequency at which you would require cleaning services.
They are as follows:
Where your property is located;

What type of surfaces need cleaning;

How intensified is the use of surfaces;

Personal preferences.
Location is a key factor in cleaning frequency because the dustier the area where your property is placed, the more often it would have to be washed. Pressure-washing services are frequently requested if the environment suggests high pollution levels or debris accumulation.
The same applies if your household or business establishment is near a busy road. Traffic creates a lot of dirt and calls for more frequent cleaning.
Various types of surfaces gather varying amounts of dirt or grow mold at different rates. Outdoor areas need to be cleaned more often because natural elements affect them.
Last but not least, people differ in their perceptions of clean appearance. Immaculate vision should be maintained more regularly if you are more dedicated to aesthetics.
Frequency Difference for Residential and Commercial Properties
Commercial properties must be up to cleaning standards and maintain a safe and pleasant environment for clients and employees. Creating an image of a business that keeps everything in cleaning order appeals to more people respectively attracts customers.
That is why, as a rule, they require more frequent cleaning attendance. Some factors determine how often that is, for example, if there are outdoor areas or only building walls. Traffic is crucial too.
Image Source: Canva
Every two to three months is the usual rate of applying pressure washing services for business. However, if the property is located at places where grime and dirt are easily accumulated, it might require cleaning every month.
Residential properties need less frequent cleanings, but once or twice a year is essential for keeping the appealing look of your home's exterior surfaces and indoor areas.
Noticing Signs and Indications You Need the Service
You need immediately start a scheduled cleaning if you notice specific signs that clearly indicate that washing is due. Here are the indications.
Visible Dirt and Stains
You must notice if your surfaces spot unpleasant stains or show a change in color. Obviously, a dirt buildup indicates that you are a bit too needy of pressure washing services. Business owners should not wait for their customers to complain.
Luster
We all love to see surfaces that are shiny and look like new. If you notice that yours have lost their luster, it is time to bring their vibrance back. Pressure washed, they would be shiny again.
Mold and Mildew
If you spot mold or mildew growth, it is a must to react immediately. The problem is not only a matter of cleanliness but also a threat to people's health.
Seasonality and Different Times of the Year
Seasons can determine cleaning frequencies in two directions. First, people share a conventional belief that the spring is the right time for thorough cleaning since the winter is over and better days are ahead.
Another popular season is fall, when everyone prepares for the upcoming winter by preventing debris accumulation. 
Seasonality is a variable factor in different areas, and pressure washing services consider the various season-related factors.
Exceptional Cases or Unexpected Events
Even the most detailed and organized schedule needs adjustment when special occasions arise, or unexpected events occur.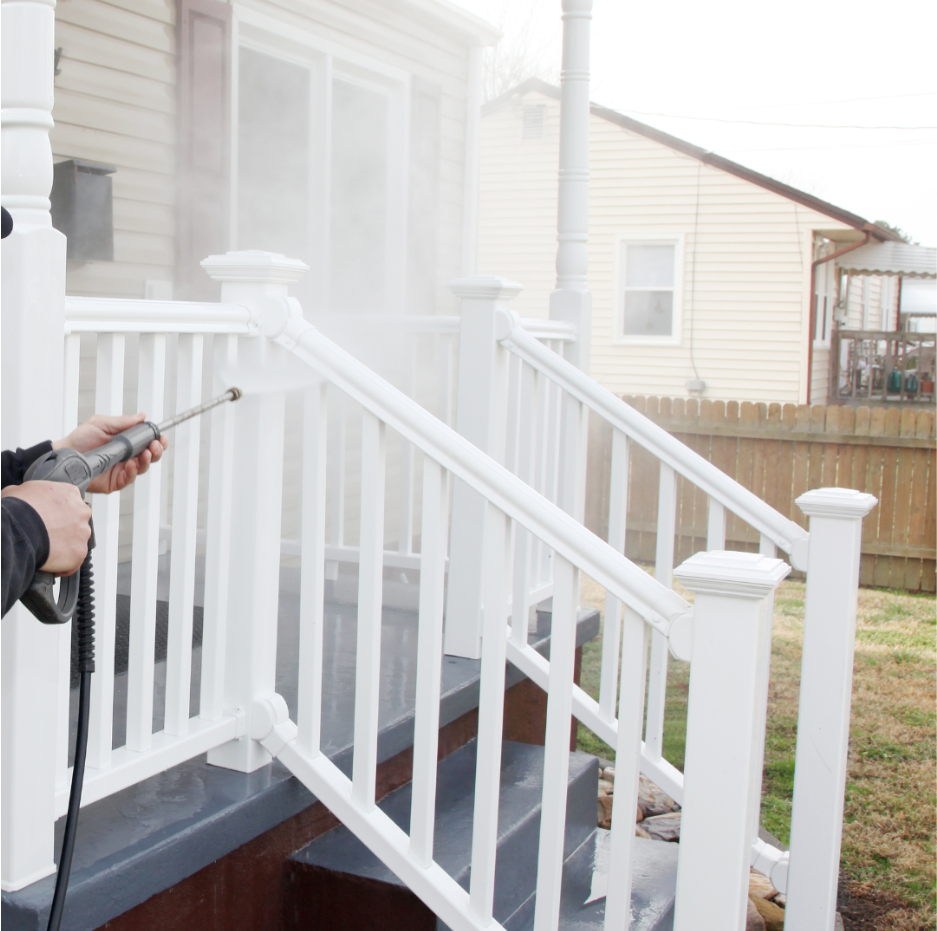 Image Source: Canva
If you are hosting an outdoor event or a family gathering, you might need extra pressure washing services booked to make sure that no dirt or grime will spoil the occasion.
Other serious reasons for unexpected power cleaning services include heavy rains, storms, and even natural disasters. With some luck, you would only need to clean up the accumulated dirt and debris.
Factors That Might Influence How Often You Use Pressure Washing Services
The following key factors are essential when determining how often you would require cleaning services:
Climate-related circumstances;

Trees proximity;

Roads and traffic nearby;

Frequency of use;

Health dangers.
If your house or business building is located in an area with humid or rainy weather, it is more likely that you would have to battle with mildew or mold growth. Cleaning with a power washer prevents microorganisms from spreading and can effectively tackle the problem.
When your property is near trees, you have to battle with leaves, pollen, and other naturally accumulated debris. In such cases, you would require a more frequent power wash.
The same applies to properties that are in high proximity to busy roads since they accumulate a lot of dust and pollution.
No matter where your building is, if you use your deck or patio often enough, it will require the same patio and deck washing frequency.
It was already mentioned that mold and mildew pose a health risk. If there is an individual with breathing issues or allergies in your household, you would need to pressure wash more often.
All of these are applicable to both residential and commercial properties. Public buildings must be cleaned more frequently because of standard health and cleaning regulations.
What Else to Consider?
If you are faced with a cleaning project that includes not only washing outdoor elements but encompasses both roof cleaning and/or gutter cleaning, you should seek a professional company that can handle all of it.
There are numerous advantages to using pressure washing services for homeowners and businesses. First, it can save money in the long run – it prevents costly repairments and deals with tasks non-professionals can't.
A well-trained professional accomplishes the task at hand safely because high-pressure water can be dangerous if not handled cautiously. Hard surfaces, concrete driveways, and other exterior cleaning tasks can be performed only by a powerful enough pressure washer.
In this respect, a DIY power washing might be dangerous and ineffective. Moreover, it would not possess the power a professional machine can exhibit to clean every square foot of property faster and efficiently. 
How Often?
To summarize the answer to the question of how often you should use pressure washing services – it varies depending on internal and external factors.
For residential proprietors, annual or bi-annual cleaning might suffice as long as they are not cleaning-obsessed or their property is not in close proximity to trees and heavy traffic. Planned social events might also trigger unexpected cleaning.
For business entrepreneurs, pressure washing quarterly or even more frequently might be needed if the industry requires it or if external circumstances such as the weather and climate affect the condition of surfaces.
If clients or employees are unhappy with the environment, an emergency service is required. If there are no complaints, but you begin to notice deviations from the standard, react quickly by getting in touch with a high-ranked professional cleaning company.