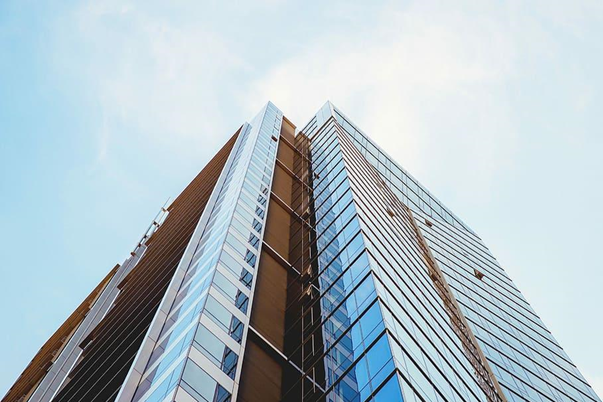 Gutter cleaning is an important step in keeping our property in a good condition. Spring and fall are the perfect seasons to start your gutter cleaning. By regular rain gutter cleaning you bring your property in a ready shape to endure the first rains of fall depending on your climate.
Dry leaves, twigs and various kinds of debris clog inside a gutter system and don't allow the free rain water flow. This can lead to different types of damage to a building if the debris isn't cleaned regularly.
By regularly cleaning your gutters you also ensure that there is no risk of some damage for your residential or commercial building. To do gutter cleaning you need reliable and effective gutter cleaning tools that guarantee you desirable results.
You can find the common rain gutter cleaning tools in most home  stores but many are offered online too. Some of them  are offered in gutter cleaning kits or separately. Before deciding what gutter cleaning tool you need to buy, you should first consider how tall is your property  and the amount of debris inside your gutters.
Here are some of the most effective tools for gutter cleaning. They can help you clean really easy and quickly your gutters and are easy to find in home depot stores. Some of them are cheap and some are more expensive.
But it's important to know you don't need too many gutter cleaning tools. Owning some of these will help you do a decent gutter cleaning by yourself. They are handy to use and guarantee you well-cleaned gutters.
Effective gutter cleaning tools you need to clean your gutters
Gutter scoop
This tool is one of the most simple and inexpensive and you cannot miss to have it. You need it to easily scoop out the debris collected inside your gutters.
The only downside of it is that you need to climb on a ladder to use it manually on a target spot. Just make sure to pick a gutter scoop of good quality.
Power washing wand
Another must-have tool in your gutter cleaning tool set. Power pressure spray wands are convenient because they can be extended to reach gutters at a different height.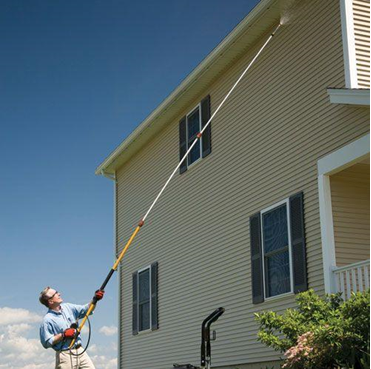 Some wand types have a spray head that can rotate 360 degrees to clean in all directions. Power washing wands are used with different gutter cleaning attachments.
High pressure power washer
Pressure washers are powerful tools for a variety of property cleaning tasks and definitely worth the investment. You can use them for cleaning different parts of your property so they are suitable for gutter cleaning too.
Power washers can tackle all types of gutter debris thanks to the high pressure water flow they work with. There is no other cleaning tool that can achieve the same results like pressure washing machines.
Pressure washer gutter cleaner attachments:
Pressure wash Gutter Cleaner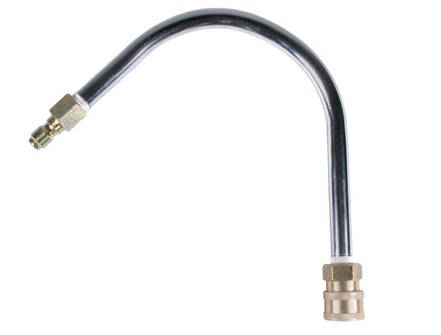 You can find such an attachment as part of a gutter cleaning kit. This attachment has a curved shape and it's attached to the end of  a pressure washer wand.
One of its advantages is that it has a resistance to corrosion and heat. There are different types of gutter cleaning wands depending on the gutter cleaning needs.
There are flexible gutter cleaner attachments that let you clean all corners of your gutters and downspouts. These removable curved arms are attached to the tip of a telescoping wand and have many cleaning applications.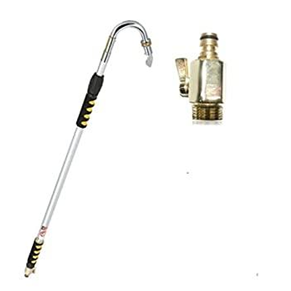 They are really helpful as they can reach spots standard gutter cleaning wands can't such as under low ledges or around gutter corners. One of their main advantages is that they can be formed in the shape you want and can endure a pressure up to 5000 PSI. This is helpful especially if you need to clean  stubborn debris clogs.
These types of wands can be used for different types of gutters. You can direct the spray head to any place you need to clean and always start cleaning from the high end of your gutters.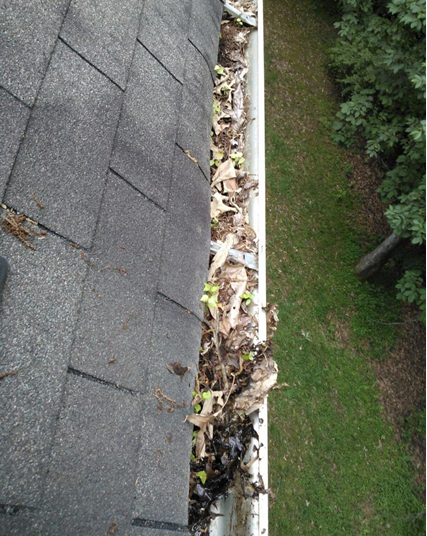 The water spray will loosen the debris build-up and direct it towards the downspout. You can use this tool also for breaking clogs inside downspout lines.
Powerfit gutter cleaner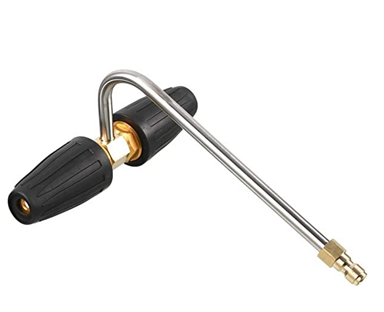 It's another gutter cleaner attachment effective for removing different gutter debris. It has a simple design and it can blast off debris and leaves in two directions ensuring that the gutter is cleaned effectively. This gutter cleaner attachment has a universal fit which makes it suitable to use with most pressure-washers.
Telescopic gutter cleaner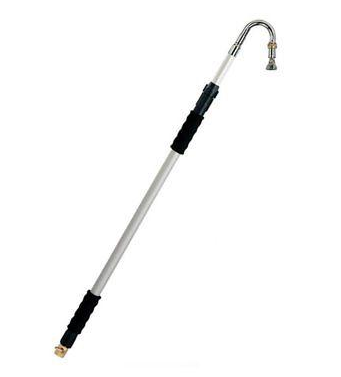 Telescopic gutter cleaners have some great advantages. One of them is the fact that you can use them without climbing on a ladder. They are similar to extension poles. The second advantage of this gutter cleaning tool is its durability.
By using a telescopic gutter cleaner you can clean your gutters from the ground.  They are multi-purpose as they can be used not only for gutter cleaning but also for cleaning windows, sidings, cars and even solar panels on buildings.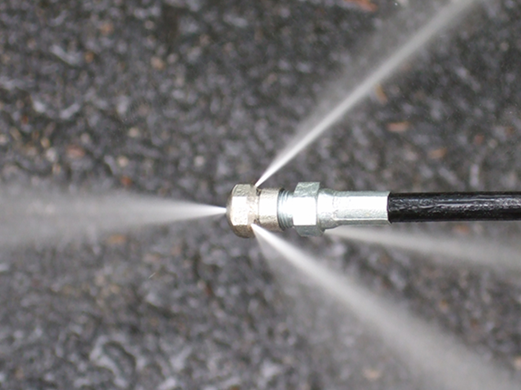 There are telescopic gutter cleaners of different sizes available in stores, so you should pick the right gutter cleaner kit for the size of your property. Determine the height of your gutter lines first before buying.
Most telescopic gutter cleaners have a length between  5 to 12 feet  which means you can use it to clean the gutters of a two-story home.
They have a high pressure spraying nozzle with an on/off valve that works with high pressure and allows you to clean the gutters on top of your roof. It has an adjustable water flow speed.
This gutter cleaning tool helps you blast off all the clogged debris in your gutters effectively. Their kits contain also a garden hose connector with a valve that offers you the function to adjust the water flow which makes gutter cleaning an easy task. Some telescopic gutter cleaning kits include small brushes that are attached to the wand for cleaning specific gutter spots.
Telescopic gutter cleaners are easy to use because they are made of lightweight high grade aluminum. They are also durable and some are offered with foam pads for an easy grip which makes the work with this tool even easier.
Extension pole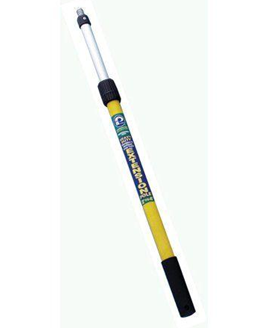 An extension pole for gutter cleaning  also has a long reach depending on the model ( most often it can be extended up to 2 meters).It allows you to clean different zones of your  gutters in an easy and safe way from the ground. They can be easily attached to gutter cleaner attachments thanks to their quick connect fittings.
Gutter wands are convenient to use for different parts of your gutters. Thanks to their ergonomic and non-slip design they offer convenience for different gutter cleaning tasks.
Microfiber cleaning tool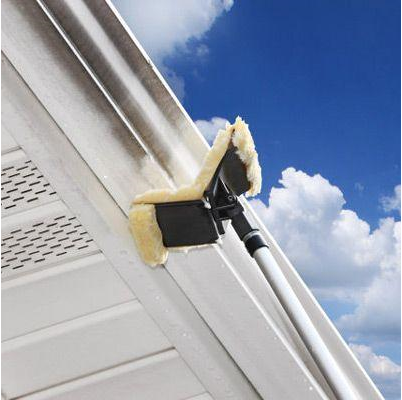 It's another useful and effective gutter cleaning tool you can use for your gutters and sidings. It combines the advantages of a gutter cleaning wand and a microfiber cloth.
It consists of a plastic gutter cleaning head and a microfiber material. It's  a good low-cost alternative to those gutter cleaners that work with a pressure spray.
Because it's made of a sturdy plastic it offers durability. It works as a scrubber against different types of gutter dirt and it's used in combination with a gutter cleaning solution. Soak the microfiber cleaning tool into the gutter cleaning solution, wipe carefully  the dirty gutter surface and when you are finished rinse the surface.
It works also for algae that can grow on the surface of gutters. This type of gutter cleaning tool can be easily attached to any type of extension pole. So this makes it suitable for cleaning gutters at high locations.  Its main advantage is that it can adjust itself to the shape of the surface you want to clean.
Radial flow brush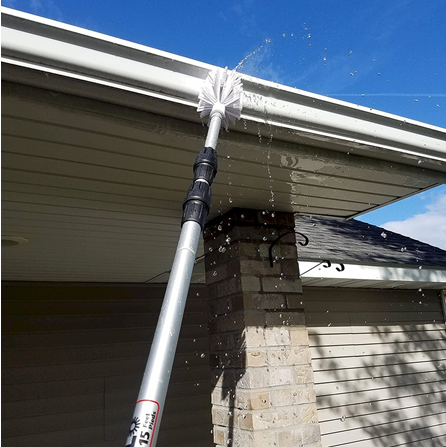 It's a type of gutter cleaner attachment that can replace the power pressure nozzle. This type of brush can be found in gutter cleaner kits and its advantage is that it can spray water and clean the surface at the same time.
Debris retriever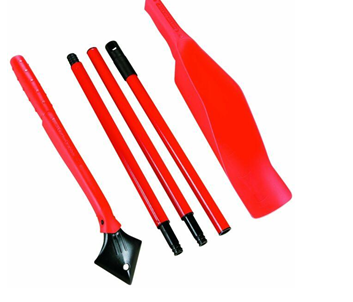 Using a debris retriever (also called gutter grabber) will help you scoop out debris from your gutters quickly and easy. It's durable as it's made from sturdy materials and with its blade it can handle accumulated gutter debris. And thanks to its narrow body you can clean with it narrow gutters .
Because it has a curved neck you can use it for cleaning under and over gutter hangers or gutters with overhanging shingles. The debris retriever has a hook that lets you hang it on the gutter while you are scooping debris or moving to another spot.