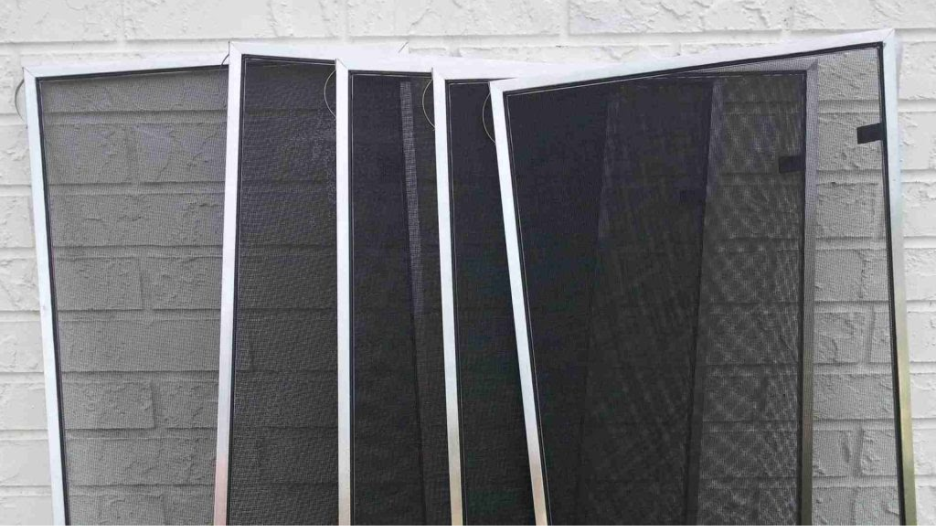 Window screens are now used in almost every household, office area and building in general. They play a huge role in protecting the environment inside a room. They make it more comfortable for the residents or visitors by stopping the insects like mosquitoes from entering inside.
Many people wonder how to maintain the cleanliness of the screens and some ask the question if it really is that necessary. 
The answer is yes, it is absolutely necessary for you to regularly clean your windows and windows screens for many reasons. What are those reasons and can't you just wipe them off with a tissue?
Why is it important to have clean window screens?
If you think about it, what is the most important purpose of a window screen? It is letting in fresh air inside a room while protecting the room from mosquitos, bugs and other insects that might come in. 
Irregular and inefficient window screen cleaning can lead to a lot of accumulated grime, dust and debris on the screen itself. In addition, moisture from the outside can create particles that are bad for your health. 
It is also possible that they develop mold. Mold is extremely unhealthy for your lungs and particularly bad for people who suffer from respiratory conditions.
Keeping this in mind, you can imagine how skipping cleaning of the window screens can defeat their original purpose. 
When you open the window and the screens are dirty, they are actually obstructing the fresh air from coming in. Then the little air that does come in will need to pass through the dirty filter that the screen has become.
In addition, no matter how deep clean your windows are, if your window screens are dirty, the overall look will just not be good neither from the outside, nor from the inside. 
Rain drops can also spread the dirt from the screen to the window itself very quickly, so the clean condition of the window will be just temporary. What's more, they will have a different colour, let less sunshine in and make the outside view not as good as it actually is.
How can you clean them by yourself?
There certainly are good DIY methods to clean your window screens effectively by yourself. Unfortunately, you cannot simply wipe them off with tissues as one would hope.
Since perfection is hidden in the tiny details, if you want to clean the entire screen well, you will need to take them off the windows first. After that you will need to do a series of things which is a step by step process in order to achieve a sparkling clean look.
First off, you will need to use a handheld vacuum cleaner with a scrubbing brush so you can take off the main layer of dust and dirt. Then, you can use a damp microfiber cloth for a better clean. 
After that you can use a garden hose to rinse the window screens, but make sure you are not using very high pressure, so you do not damage them. 
The next step is giving them a good clean with a DIY cleaning solution. The best way to make one is to use ammonia, but you can also use dish soap or dish detergent mixed with warm water. Scrub the window screens gently and wash the solution and the leftover dirt with the hose again. 
Secure a free and spacious area to leave them to completely dry in the sun or use a dry towel to wipe off the water. Then put them back on the window frame. You should also make sure you have marked them beforehand, so you know which screen goes on which window.
Why should a professional do the job?
As you can see it is not a simple task to clean the window screens by yourself, especially if you have a large number of them. 
If you are wondering how to make a big commercial centre, administrative or business building look impeccable and appealing to new clients and well-known customers, chances are you need a professional cleaning company.
You can also use specialized services if you do not feel confident about cleaning the window screens on your own or you simply do not have the time to do it. At the end of the day it is a time consuming project and requires specific tools and precision.
If you live in particularly polluted areas, such as industrial zones or big roads with heavy traffic, you will most likely need to clean the windows and the screens quite regularly. That is another reason you might want to use the services of a professional cleaning company.
Every self-respecting cleaning company knows well that sparkly windows are not enough. The service should include outside and inside window cleaning, as well as window screens which look brand new.
A well-known and trusted company like Sky SWC uses only the latest cleaning products and technology to ensure quality services. We have gathered a team of professionals that will make your building look impeccable.