Image Source: Canva
There is a lot of wisdom in thinking that keeping is better than repairing. If you wish any single thing to do its job well, it needs care.
Dryer vents work fine if they are kept with care, which means to say that it is essential to keep the vents of your dryer clean against lint that causes reduced flow of air and prolongs the time for drying, as well as poses a higher risk of fire. 
A lint buildup can cause inflammations endangering the lives of you and your family. Clean your dryer vent regularly to prevent dangerous situations.
If you wonder how to clean the dryer vent yourself, read on. However, keep in mind that sometimes a professional might be better – they have the right training, qualifications, and routine to do the job nicely and neatly.
If you choose to carry on yourself, remember that you must clean the dryer vent every year. It is a must-do on your to-do list. You might also require a dryer vent cleaning kit and a dryer duct cleaning kit.
How Do I Clean the Vents on My Dryer?
The laundry room may not be the first to start your sweep and brushing, but your dryer needs that cleaning to prevent clogs, reduced functionality, and trouble for your health. 
Before you initiate your clean-up task, prepare a brush with soft hairs, a vacuum, and some rags. Now you have to figure out where your dryer vent is placed.
Clean your dryer vent in a safe way by unplugging it from electricity, or if you are connected to gas – switch the valve off. You could find this stage unnecessary, but it is essential for your well-being. 
You must manipulate it directly, so an open electricity or gas source is hazardous. The actual cleaning of dryer vent ducts, dryer vent pipe, and lint trap filter can begin. There might be some differences between a gas dryer vent and an electrical one. Consult with your guide.
Your second task is to replace the screen, which is usually located on the rear of the lint trap – on top of the machine or behind the door. If there is lint gathered, you must brush it off. You can use a vacuum for the best results.
The easiest approach to cleaning the dryer vent is with a shop vac. You can swipe the lint first and then vacuum it so that you know everything went into the dirtbag.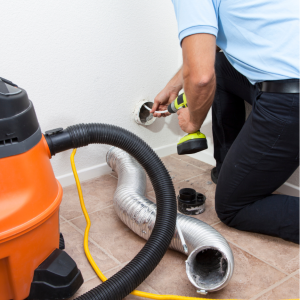 Image Source: Canva
A bit more complicated is to clean the dryer vent duct. It is because it is situated at the back of the machine, and to be able to dust it the right way; you have to disconnect it and then put it back when done.
Usually, clamps are used to hold the duct. It is necessary to clean the duct and pipes very thoroughly because otherwise, you risk clogs and malfunctions. A clogged dryer vent makes the machine unusable.
To remove the lint buildup in the duct, you need a vacuum cleaner with a flexible hose or a special kit with a soft brush. Whichever you choose, you have to rotate the cleaning brush inside the duct. 
In this way, you will be able to collect all the lint inside. Repeat the manipulation several times to ensure no dirt is left behind. You might need to clean your vacuum bag before you proceed.
Be careful when you open dryer ducts because there could be gusts of hot air if the machine has just finished a cycle. 
When you are done with interior cleaning, you can proceed with the exterior one. You can again use the vacuum cleaner or the brush to clean any lint or other sources of dirt. When you are ready with that as well, you have to reconnect all the parts of your dryer.
You can reconnect it to the power source when all is set and secured. It is also a good idea to run a test of proper functionality to see if everything works as it should. After that, your dryer vent cleaning is completed.
How Long Does It Take to Clean Dryer Vent?
It is subjective and depends on the structure of your vent duct and the amount of lint piled up. If it is an ordinary structure, it can take no longer than half an hour.
However, it might take more than an hour if it is more complex or troublesome. Cleaning the dryer vent with a vacuum is the fastest way, but it should be done carefully.
You have to bear in mind several things when it comes to how to clean the vent in a dryer. It might be challenging to clean the clothes dryer vent from the inside and outside yourself, especially if this is your first time doing it.
Then it might be wiser to turn to a dryer vent cleaner near you. If you wonder how to clean the dryer vent, you should make it easy on yourself and let experienced professionals do it neatly and nicely.
Image Source: Canva
The benefits of a clean dryer vent are great. You make sure there is good airflow and the elimination of bacteria and microorganisms.
You should do the procedure regularly whenever you notice a smell or reduced function of your dryer or plan it every now and again to prevent line buildup. While cleaning, check for rips or any damages along the structure of your dryer.
If your dryer vent clogs, it would not do its job, so you would have to unclog it as soon as possible. In such cases, you have to see what causes the problem and, based on that, decide how to proceed further.
It might also be great to get the dryer vent cleaned more times than usual or ask a professional to check it up to see if the clogs are not a symptom of a more significant problem.
Valuable tips and bits:
Check for small tears on your pipe, and if any – repair or replace the whole;

Exchange flexible type with a rigid one if applicable;

Clean every nook you can reach, and use a brush or cloth after the vacuum.
Now you will be able to clean a dryer vent inside and outside. Remember to repeatedly redo the cleaning effort to prevent more significant problems and costs.