No matter if you choose commercial or residential awnings for your property, all types of exterior fabrics are an important investment. For this reason it's important to take certain steps to keep your canvas awning fabric in a good condition in every season.
Whether you own a business or home property, it's good to invest in proper canvas awning care, so that your awnings will offer your property good shade and protection for a long time. Regular cleaning and maintenance is recommended for all types of outdoor awnings- retractable and non-retractable.
When properly maintained and protected canvas awning fabrics can last a long time and ensure the good  appearance of your property's exterior. Besides, proper maintenance of canvas awning fabric can also save you money in the long run. 
It's important to know that each type of material requires a special maintenance that suits its specific features.
Depending on the material canvas awning fabrics are three types-acrylic, natural(canvas), or vinyl.
Some of the most common types of dirt that spoil the good looks of canvas awning fabrics are :
bird droppings

algae

mildew

rust

paint

tree sap and etc. 
Each of these materials has its pros and cons and it requires special cleaning methods.So there isn't a perfect choice of an awning fabric. Your choice of material depends on where your property is located, what type the property is and your requirements for property aesthetics.
Here in this article we will check the pros and cons of each canvas awning fabric and check out the best cleaning methods for each material that offer great results.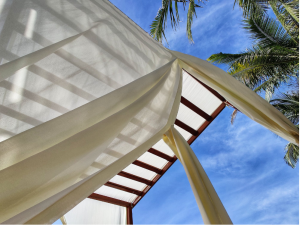 Types of awning fabrics
Polyester/ Acrylic canvas awning
Canvas is originally made from natural fibers such as cotton and hemp and it's the most common material used in the creation of awnings.  Some of you probably don't know that canvas awnings can be made not only from natural canvas, but also from other materials as well. 
In fact there are  different types of fabrics that consist of canvas combined with other materials and they characterize with durability and breathability.
But now awning fabrics can also include cotton blends and synthetic fabrics such as woven acrylic and polyester. Thanks to the addition of manmade fabrics the modern type of canvas is easy to clean and maintain and it also lasts long.
Pros 
Acrylic canvas awnings are wind-proof and for this reason they are a good choice, if your property is located at a windy area. Being  breathable  acrylic awnings allow cool air to enter the space under them and as a result cool temperature can be maintained. This fact makes acrylic awnings a good choice for areas with hot temperatures.
Another advantage of acrylic awnings is that they are available in a variety of colors and attractive patterns. The reason for this is that it's much easier to create patterns on an acrylic fabric than on vinyl.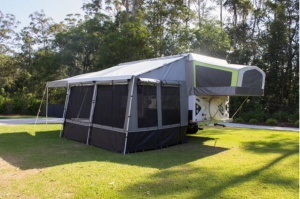 Cons
High quality acrylic/polyester canvas isn't fully water-proof, but you can still clean it by using a garden hose. The recommended cleaning frequency for canvas is once a month. 
Whether you need to apply light or heavy cleaning depends on how dirty the canvas awning is. For small amounts of dirt and dust periodic light cleaning with a dishwashing liquid is enough. 
To do light cleaning of a canvas awning you only need a soapy solution made of soap and water, and a soft bristle brush as well. Take the soft brush and use it to remove the loose dirt from the awnings and then use a hose to wash the surfaces. 
Get a dishwashing solution and dilute it in water. Get the brush and dip it to the solution, then move across the dirty places with dirt on the awnings.  Let the cleaning solution stay on the fabric for a while, after which rinse it with the hose until there is no cleaning solution left. Let the awnings air dry. 
How to clean it ?
If there are mildew or stubborn stains on the canvas, then you need to use elbow grease and a special cleaning solution for them. 
High quality canvas is usually resistant to mildew growth but if the canvas awnings remain unclean for too long, mildew may start to develop on top of the dirt. 
You can make your own DIY cleaning solution suitable for cleaning bird droppings, mildew and party stains from canvas awnings. Mix ¼ cup mild soap and 1 cup bleach with a gallon of water.  Get a soft bristle brush again to clean the awnings with the solution.
After you are done applying the cleaning solution with the brush, let it stay on the awnings for around 15 min. Then rinse with the hose until all of the soapy water is gone and let it dry naturally. You may need to repeat this entire process, if there is still some dirt left.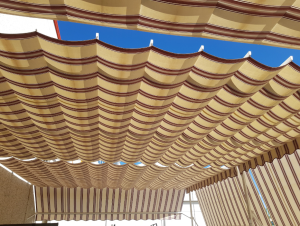 Vinyl fabric awning
Pros 
Awnings that are coated or laminated with vinyl  characterize with high durability and they are also waterproof. For this reason they don't need to be cleaned as frequently as canvas awnings do and they are suitable for a rainy climate. And vinyl fabric awnings are usually cheaper than acrylic awnings.
Also, vinyl awnings are easy to clean and in most cases you can clean them only by using a hose. But they still need regular light cleaning to have a nice appearance.
The cleaning frequency for vinyl awnings depends on whether they are commercial or residential and exactly how clean you want your property to appear.
In fact vinyl is not a fabric itself, it's used for coating exterior fabrics.  Vinyl awning fabric has a polyester base which gives the fabric the needed level of elasticity to be stretched over different awning frames.
Vinyl coating makes awning fabrics water-proof, mildew-resistant and more durable to the elements which makes it a good choice of material in the long run. Some types of stains can be more easily cleaned from vinyl awnings than from canvas awnings.
Cons
Despite the fact that vinyl fabric awnings are  flexible, vinyl can be easily torn. That's why vinyl fabric awnings aren't suitable for windy places.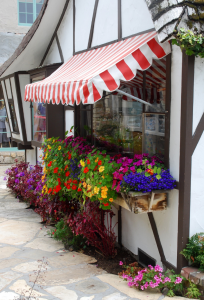 Although vinyl is waterproof, it's not fully  resistant to mildew, especially if the climate is humid and there are high temperatures. So, vinyl fabric awnings  need to be regularly checked for signs of mildew growth. 
Because of their waterproof ability vinyl fabric awnings don't allow air to pass through them too. That is why you may notice the temperature under a vinyl awning is higher than the temperature of the outside environment. If your area has a cold climate, vinyl awnings are a suitable choice for you. 
How to clean it ?
If your vinyl awnings are just a little bit dirty, to clean them you need a hose, mild soap solution and a soft brush. The first step is to hose down the awnings, put the soap solution on the dirty spots and then get the soft brush and start scrubbing them. After that rinse away all of the soapy water. 
If there is stubborn dirt on your vinyl awnings, then you can prepare a bleach solution that will help you get rid of the dirt. Mix water and bleach in a 50/50 ratio and apply this cleaning solution on the awnings. 
Get the soft brush and start scrubbing the stubborn stains. Let the bleach solution stay on the surface for 3 minutes and after that rinse the awnings until all of the solution is removed. While rinsing the bleach solution be careful not to damage some plants or materials that are nearby.   
If you have commercial awnings that have vinyl graphics, when you are cleaning them with a brush it's recommended to move with the brush away from the edges of the graphics instead of brushing along their edges.