The power washing business stands for quality and complete equipment to gain success. The commercial pressure washer and the right tools and accessories for your practice will ensure you give an efficient and effective job. They are what it takes to achieve any cleaning outcome.
Image Source: Canva
As a professional, you will face multiple tasks – whether those will be vast surfaces or hard-to-scrub oil or grease, a commercial pressure washing with the right washer can tackle them all. Sidewalks, decks, patios, and building exteriors. Yes, the machine is an absolute must, but what to choose?
Selecting a suitable commercial pressure washer is a challenging task. You have to consider various factors to make an informed choice. In this article, we are going to explore some of the key factors for selecting the right machine.
They are as follows:
Can it perform heavy-duty tasks;

Is a hot or cold water pressure washer better;

How do electric and gas-powered washers differ;

What are the flow rate and water consumption ratings;

Do you need tanks for chemicals;

What essential features and accessories to consider?
If you are set on starting your pressure-washing career and turning it into a profitable business, read on to understand what you must know about pressure washers' special features. Information is crucial for choosing the best commercial pressure washer.
It is a difficult decision to make, but it can be tackled when you are well informed about the factors you consider before purchasing. Here are some professionally proven tips to help you make the best choice.
Key Requirements
Commercial cleaning is more demanding when reliable results are expected because people acquire professional standards. To obtain those standards, you need excellent working tools; the most crucial is the pressure washing machine.
The essential requirements are:
To conduct difficult and demanding tasks for extensive periods of time;

To perform consistently;

To achieve desired outcomes.
When picking your commercial pressure washer, consider these details and specifications.
Heavy-Duty Performance
Pressure levels are crucial in picking a pressure washing machine for commercial purposes. PSI and GPM are the measurement scales defining your washer's power. They are the very first essential thing you need to know about the machine.
When faced with a demanding job and extensive cleaning, a machine with high PSI/GPM would be perfect.
Logically, the right commercial pressure washer can accomplish the most demanding jobs and consistently give extensive washing. Sufficient cleaning power is more than necessary to comply with the job.
When choosing your commercial washer, look out for models with high ratings PSI and GPM so you can count on sufficient pressure levels and water flow for the job.
Remember that the bigger the machine, the more extensive work it is designed to do. The ratings comply with its capabilities to wash large areas such as sidewalks. Heavy-duty performance is an essential requirement for the commercial machine.
It, after all, is meant to be labor-saving and do a regular hard job. 
Cold Water vs. Hot Water Pressure Washer
Hot water and cold water pressure washers are effective and valuable but are meant for tasks requiring different approaches. When choosing between the two types, you must be aware of what you will do the most.
If you are to clean occasional dust or dirt from surfaces, then a cold water pressure washer is sufficient enough and will do a nice and neat job. Let's say you have to blast off accumulated sand – you don't require hot water.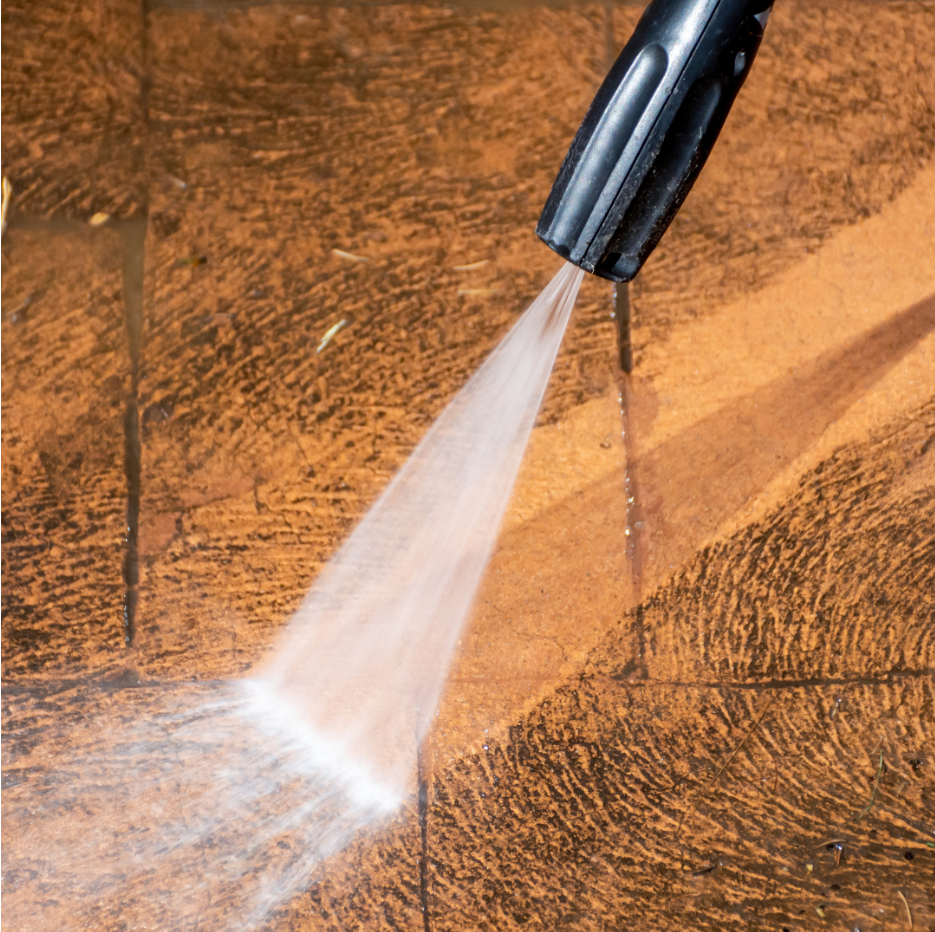 Image Source: Canva
On the other hand, if you have to deal with more stubborn substances such as oil and grease, you cannot cope sufficiently with using cold water. In such cases, more efficient will be the alternative.
Hot water pressure washers suit areas such as manufacturing, vehicle production, or food services. Cold water ones are ideal for residential use. Industrial pressure washers deal with hard-to-battle tasks, whereas residential pressure washers battle mundane tasks.
Electric vs. Gas Pressure Washer
There are a lot of models on the market. When you search for the optimal option, you inevitably have to think carefully about what variety that would be – an electric-powered pressure washer or a gas-powered one. To select between the two, consider all the advantages and drawbacks.
An electric pressure washer is not as noisy as its counterpart, which might be significant in the long run. Another plus is that electric machines emit no fumes, making them perfect for indoor and outdoor use.
Electric-powered pressure washers are ideal for less demanding cleaning tasks. They are less powerful because they have limited horsepower and output.
Gas pressure washers have more power and are more portable in comparison to electric-powered ones. They are more well-suited for outdoor tasks and can perform better when faced with large-scale projects.
Flow Rate and Water Consumption
We mentioned the GPM rating of a commercial machine. It shows the flow rate pressure and informs of water use. The task is completed more quickly and efficiently when the rate is high.
In terms of effective outcomes, you need more power. Nonetheless, more power means equally high water usage. Consumption depends on the flow rate, so you must consider the cost. The good thing is that systems are used to reduce consumption and save resources.
Use of Cleaning Chemicals
Some grime, substances, and stains would require the use of chemicals to be removed. If you expect to encounter tasks like those, then look for pressure washer models equipped with a built-in system for mixing cleaning agents.
This way, you will professionally and safely apply the necessary chemicals without extra equipment or cost.
Features and Accessories of the Commercial Pressure Washers
Consider the small details if you want to choose the right commercial pressure washer. Those are a machine's essential features and accessories that guarantee longer and more effective usability.
Some key things to consider:
Adjustable pressure;

Interchangeable nozzles;

Long enough pressure washer hoses;

Pumps;

Wheels and handles;

Detergent tanks;

Safety features;

Warranty and service.
Adjustable Pressure
When we talk about commercial washers, the focus is on pressure. If you can adjust the force with which to apply hot or cold water to the surface you are cleaning, you can tailor it according to the task's requirements.
Although almost all models provide this feature in one way or another, opt for the option that will fit your general practice area.
Different Nozzles
A good nozzle kit with different degrees will give you various spray patterns. It is essential for every professional. The tasks you face will be as different as possible, and when you have multiple ways to tackle the surfaces, you can provide the expected outcomes.
Image Source: Canva
Hose Length
One essential factor to consider when choosing your commercial pressure washer is the sufficient length of the hose. Hoses give you a wider reach and minimize the need to maneuver your machine.
Pressure Washer Pumps
Another thing to consider about your pressure washer is the types of pumps required. Triplex plunger pumps are considered to be the best choice when it comes to longevity and performance.
Wheels and Handles
Inevitably, you will have to move your pressure washer, and commercial ones are heavy. Wheels and ergonomic handles might make the task a bit more lightweight for you.
Detergent Tanks
When you are required to use chemicals for your work, pressure washer models with detergent tanks are the best option for you.
Safety Features
Sensors that indicate the level of heating of your machine might be essential for preventing malfunctions and ensuring longer usability of the product.
Warranty and Service
Every machine needs maintenance. Make sure to choose a reliable retailer with high-quality products that also provide extensive warranty and excellent customer service.
How to Choose the Right Commercial Pressure Washer?
When selecting your commercial pressure washer, you have to consider multiple options. One strategy for effective choice is to clear your perspectives and the things you consider most important for your job.
Compiling a list of features and then comparing them with different models will give you clarity and a good foundation for your informed choice. Guides like this one are informative and help you orient in the vast market.
Keep in mind that a commercially used machine requires different key features than a residential one. If you are working with homeowners more frequently than with industries, that will play an essential role in your choice.
When you have your criteria, select 3-4 models that best fit your expectations and cross-check their features to pick the right one for you. Remember, evaluate the various aspects concerning your specific cleaning needs.