Image Source: Canva
Cleaning fabric awning is tricky because if done inappropriately, it might harm the awning fabric and its water-resistant abilities. Awnings inevitably get dirtied by birds, mud, dust, and many more, so washing awnings is a must. 
However, an awning in the washing machine is a big, red 'NO' sign spelled in capital letters. It will ruin the product, and awnings can be costly. There are other "yes" and "no-s" regarding cleaning an awning.
Here is a list:
You can clean your awning when it is scorched – some dirt can be easily brushed off;

You can use water to clean more stubborn-like spots;

For the best results, call a professional.
But we recommend the following:
Don't use detergents to clean your awning;

Do not retract it still wet;

Do not put any part of it in the washing machine.
If you want to know how to clean an awning, you are aware that good care will help your outdoor spaces look presentable and contribute to the shade. Washing dirt and spots promptly will make the task easier. Types, fabrics, models, and sizes must be considered for the best way to clean an awning.
Can You Wash Canvas Awnings in the Washing Machine?
Many kinds of awning fabrics and materials include canvas, cotton, metal, acrylic, and polyester. Canvas awnings are wonderful in terms of durability and price. However, they must be laid correctly and stored in the right way.
One of the most essential things about this kind of awning is how to clean canvas awnings. The answer again is very knowledgeable, knowing the properties and limitations. Some removable canvases might be suitable for machine washing.
Most are stitched with cotton thread, which makes them unsuitable for putting into the washing machine. The procedure might damage its properties. There is still the question of how to relay the fabric again, which might be a great hardship.
And again, how to clean a canvas awning is a question of professional experience – choosing the right cleaning method and preserving the quality of the product – UV filters, water resistance, and the like.
Can you Wash an Awning?
Washing an awning on a house, commercial place, caravan and so on requires different techniques as well as warm water or/and detergent. You cannot simply spray it with the garden hose. Keeping your awning in order requires effort and care, so you enhance its colors and functionality.
Professional awning cleaning services are well aware of how to proceed in each case, but they also provide an overall assessment of the awning and can give constructive advice. Here are some tips on how to clean various awnings.
How to Clean a Retractable Awning?
They can be hard to clean because of dirt in the mechanism and also because you would need to proceed with extra care dealing with its fabric and construction. You must extend your awning completely to sweep all the surfaces of leaves or loose dirt.
Use lukewarm water and a soft bristle brush on stained areas. You need to use liquid soap or a similar mild product for cleaning. You have to make sure you rinsed it thoroughly. It is a must to wait until the awning naturally dries completely.
How to Clean Canopy Canvas?
Cleaning canvas awnings or canopies requires more effort and time because their fabric naturally entraps dirt and mold. You must use a broom or a long-handed brush to remove the leaves or the debris.
If you are battling mold, spraying the affected areas with vinegar solution is a good idea. After a few minutes, you are good to scrub it off. Wash the canvas awning with a hose and leave it to dry out on its own. Canopy cleaning products might also be a great idea.
Image Source: Canva
How to Clean a Metal Awning?
Aluminum awnings and other metal types are more durable than fabric ones. However, they can get really dirty with time. You might need cleaning liquid to be able to get rid of some of that grime. If there are any stubborn stains, you have to rub them hard before washing them with water. You have to dry your metal awning after cleaning it to prevent corrosion.
How to Clean a Kohler Awning?
Washing a Kohler awning would require soap and water that is neither warm nor cold. You have to make sure to wash all soap after you have applied it to the fabric. Don't speed the process with any heater or machine to dry your awning. 
How to Clean Electric RV Awning
As with others, you must fully extend your RV awning to treat mold, mildew, bird poop, and other dirt. Apply dish soap and enough water to clean it. Do it with the help of a brush and hose. Do not store it until it is completely dry. 
We have outlined the basic principles of washing an awning, pointing out the immense role a professional can play in keeping an awning in good condition. Let's have a look at some of the most common causes of dirt and stains on your awning and suggestions on how to clean them:
1. How to clean mildew or mold from awnings?
They look ugly and cause coughing or sneezing, and in the long run – harm health. If you spot mold or mildew forming or already forming on your awning, you must clean the affected areas.
The best awning cleaning solution is to trust professional cleaners to choose the right cleaning technique or specially prepared solution to treat the marks.
Some detergents can be erosive for metal, and others can change the coloring of your awning. Always treat with mild soap and gently brush the mold or mildew to restore the awning's good appearance and color. Thorough water rinsing and drying are the final touches.
2. Removing Bird Droppings
Cleaning bird poop is essential because droppings can damage the fabric and not look presentable (no matter if you are a house owner or it is commercially used). Brush the loose debris, clean with mild soap, and rinse all remaining substances. Some places might require more effort and manual scrubbing. 
3. How to remove paint from canvas awning?
Bleach is not a decision for your canvas awning because it will ruin it. Apply special canvas awning cleaning products or soften the paint with hand sanitizer; then, treat it with a damp rag. You can also apply special products for removing paint, but consult with the seller.  
Pressure Washing Awnings:
Pressure washing is something professionals can do well and safely. It's a method applied to large outdoor spaces such as big stores. Awnings are cleaned with the help of power washer.
Low-pressure cleaning is required to save the fabric and create a safe space for manipulation. It also takes time, and if you are not prepared with the right equipment or training, hiring cleaning services might be more cost-effective – they use a pressure washer regularly.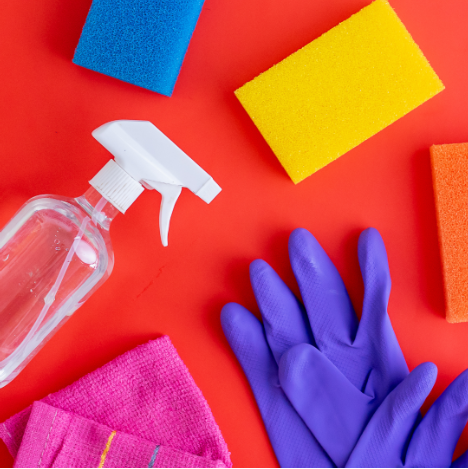 Image Source: Canva
4. How to clean algae from canvas awning?
Since algae are particularly resistant, you must mix hydrogen peroxide with water to treat them. However, always be extra careful when you apply cleaning awning chemicals because they can burn the skin. You should pour enough water to wash all remaining. 
Cleaning caravan awning
Some caravan awnings are initially produced to repel mold or dirt but they can still gather dust and bird poop is inevitable. For fabric awnings, brushing with a soft bristle tool is essential and water is applied in minimal quantity.
You can treat with a sponge for stains or what is left after brushing. You can use lukewarm water and soap solution for other, more resistant materials. Ensure you always clean your caravan awning after a trip and never store it dirty because this can cause long-term damage.
The question 'Can I put the awning in a washing machine' is a question of what is the best way to clean an awning and how often it should be done. Regular clean-up suffices longer life and usability for your awning.
If done appropriately or professionally, it will not damage the functionality or appearance of your awning. Don't forget to dry your awning after cleaning, and never store it dirty. If you are wondering what the benefits of hiring an awning cleaning service are.
Here are some for you:
Effective and efficient work;

No permanent damage to your property and safety for you;

Precision.
Regularly take care of your awning to ensure its longevity and good looks.