Clean-looking windows always make a building look appealing and professional. It's important for keeping our property in a good condition all year round either to attract customers or make our tenants happy.
But it's not always easy to keep the windows of your property always well-cleaned.There are many enemies to the exterior shining state of windows such as dirt,dust, debris, building materials, bird droppings,bugs,etc.
We need something powerful to help us bring our windows back to their previous condition and get rid off all the dirt compounds.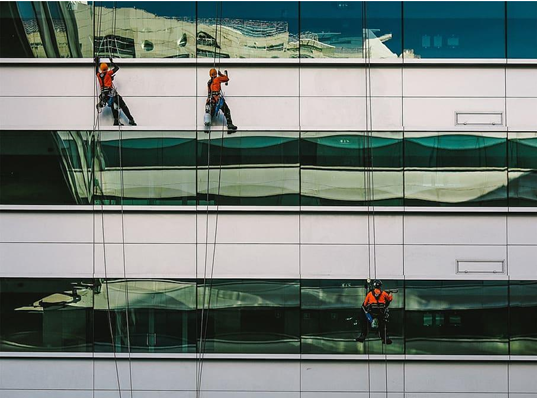 If you have accumulated dirt on your windows, the best cleaning method for this problem is pressure washing. It's probably one of the best and most powerful cleaning methods that exist. When done properly and with specialized equipment pressure washing  saves us considerable time and effort leaving us with great results.
Pressure washing doesn't require as much as traditional cleaning methods do. It removes all the grime better and in less time than the standard cleaning with a bucket, scrubber and soap cleaner.
Here comes the question can we pressure wash our windows by ourselves or it's safer to contact cleaning company crews to do the job for you. Well,the short answer is it depends.If you can afford to invest in pressure washing machines and maintain them,then you may be able to clean your windows by yourself.
But you should consider also the height of your property and whether your windows are easily accessible without special equipment. If this is not the case, a safety gear for you is a must-have.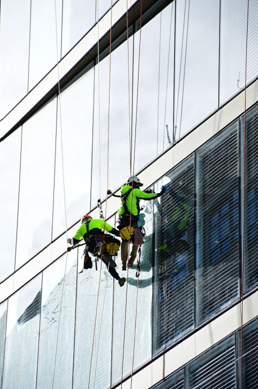 If you are beginner in cleaning with a pressure washing machine, you should better consider contacting a professional cleaning company for this job. Using the services of professional pressure washer saves precious time and effort offering you amazing results. This will also be more better or your safety as working with pressure washing machines has its risks besides its many advantages.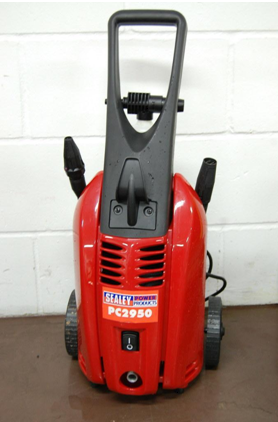 If you cannot afford good quality pressure wash equipment, then it's a better idea to call the professionals as they can provide you with shining results with no risk to your safety and budget.
For best results you should contact a professional cleaning company. Professional cleaning companies that are specialized in window cleaning with pressure washers also perform other important for your property things like gutter exteriors cleaning. If you choose the right cleaning company to pressure wash your windows, you can only win from this as it brings you advantages.
Pros of hiring a professional cleaning company
Saves you the need of professional pressure washing equipment
As you may already know pressure washing is an efficient way to clean outdoor spaces around residential or commercial properties. Pressure washing can be done to a variety of parts of building some of which are windows.
But high class pressure washing machines come with a price. The price for a brand new quality pressure washer may reach thousands of dollars. Even if you buy this type of cleaning machine, you are going to use it once or maximum twice a year which isn't really a convenient investment. And if the pressure washing machine gets damaged, you should pay for its repairment.
Also, you need to learn how the machine works so that you can use it in a safe and effective way.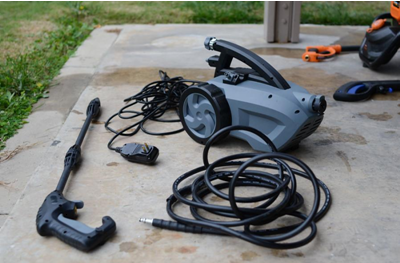 You should learn how to use its settings and test its cleaning performance on different spots of your property. You should learn to use it in a way that guarantees the most desirable results. So the end result depend pretty much on your trial and error work.
If you are using the services of a professional cleaning company instead, when a pressure washing equipment breaks down during their service, you are not charged extra.
You don't need to buy detergents and prepare cleaning chemical solutions
To get best results out of your pressure washing you surely need quality cleaning detergents. For example, if you want to clean  exterior mold you need bleach-based solution. And if you need to clean other surfaces you need a non-abrasive solution in order not to damage the paint or the finish of the surface.
As professional cleaners come at the site prepared and equipped with their machines and specialized soaps and detergents, you don't need to buy pressure washer solutions in advance. Choosing to get help from a professional cleaning company actually saves you time because they will do all the searching for pressure washing cleaning products for you.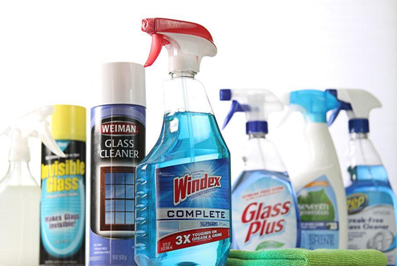 Thanks to their experience in working on different pressure washing projects professional cleaning companies can assess in an easy way which pressure washing method to use and which chemical cleaner will work best for your needs. They take a closer- up look at the windows to determine what should be done to make them shiny again.
As you know different surfaces require different types of cleaning solutions. If we use the wrong cleaning solution to a surface we risk damaging it.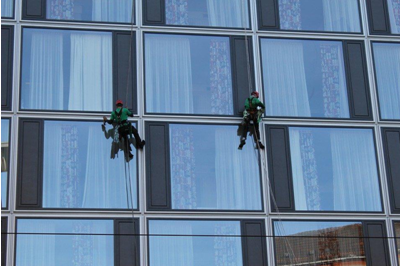 Professional cleaning companies save you a lot of time and effort by offering your effective pressure washing services and leaving your windows spot free. They offer you a full clean-up and disinfection of each surface of your property.
You limit the risk of injury for yourself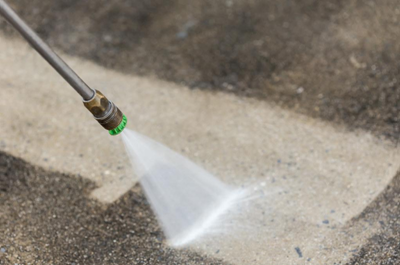 Although pressure washing offers many advantages both to our property's structure and health of the tenants, working with a pressure washer may not be very easy.This is probably one of the few disadvantages of this type of cleaning.
This cleaning method becomes extra tricky especially when we need to clean spots that are difficult for accessing. Pressure washing windows of high-rise buildings requires special safety as well as different cleaning approach to ensure maximum safety and effectiveness.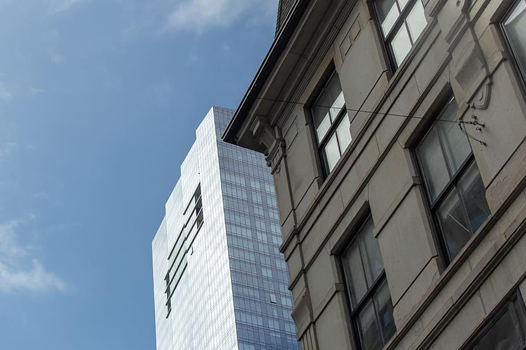 Breaking a ladder while trying to clean hard-to-reach spots with a pressure washer isn't the best way to clean effectively your home. High rise windows are difficult for cleaning as we often have to balance on slippery spots to pressure wash them. The cleaning job gets especially difficult in bad weather and safety precautions are necessary.
Window cleaning companies own specialized high grade pressure washers for window cleaning and safety gear that enables them to clean properly windows at any height and without risking the safety of their staff.
No damage for your property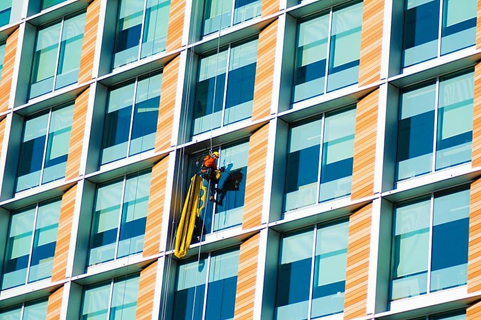 Pressure wash cleaning  isn't  a job for everyone. Pressure washing machines use water under high pressure to work and they can do serious damage. They can apply thousands of pounds per second on a single spot removing effectively all types of dirt and debris build-up.
You really need to know how to operate with the pressure washing machine and avoid using the wrong setting or cleaning technique. Some pressure washing machines can cut wood only with water.
Pressure washers offer different options. For instance, you cannot use one and the same setting to clean wooden deck, stone patio and concrete sidewalk. You should know which setting to use for different surfaces to clean them the right way.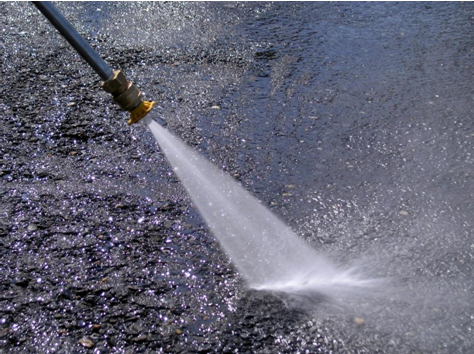 Delicate structures such as window panes, light fixtures, exterior sconces and paint are especially vulnerable to damage, we should be careful when cleaning them with a pressure washer. In the case of windows, we need the lowest pressure possible to clean them. We can turn up the pressure if we have durable surfaces around our windows.
If you aren't sure which setting on you pressure washing machine you should use, you risk causing damage like stripped paint or do irreparable damage to the building's façade.
By using the professional help of a cleaning company, you can avoid different types of structural damage for your property. Highly pressurized water can break windows. This will save you costly window replacements in the future.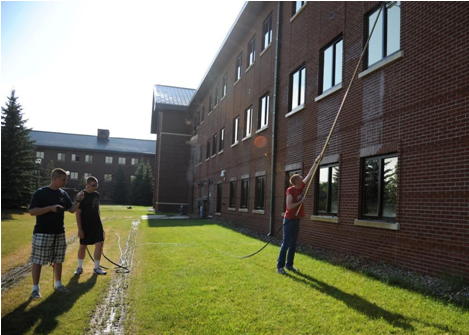 Professional cleaners can think of creative cleaning solutions when it comes to unique situations to ensure your all of the windows of your property are perfectly cleaned and guarantee the integrity of the building. Some cleaning companies use mildly chlorinated solution at a low pressure rather than strong chemical solutions.
For instance, the windows of your building may require softer pressure wash that applies little pressure than the windows of your neighbor's building. It's recommended to look for cleaning companies that offer flexible services. Reputable cleaning companies don't use one-size-fits-all approach in their window cleaning services.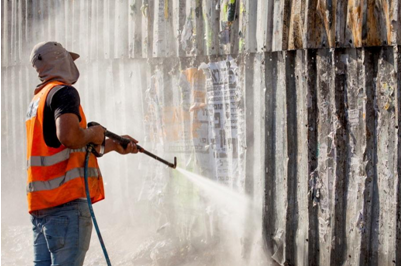 Professional window cleaners should offer a variety of services and apply different cleaning methods according to the type of property (commercial or residential), windows (size,total number,location, frames) and also how dirty they are(do they have mild or stubborn dirt build-up).
Because every window cleaning project is unique a good window cleaning company should own the required knowledge and equipment to handle any cleaning job.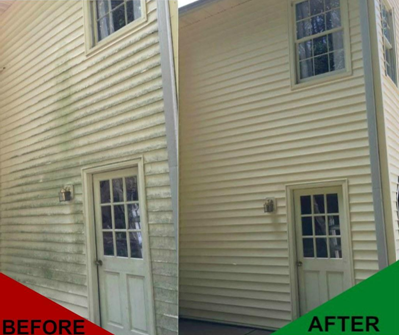 Our final advice for you will be to check which companies have considerable experience in pressure washing services so that you can pick the right one that will clean your windows quickly and efficiently.
A good cleaning company should have also an insurance and offer a guarantee for their work. They should be able to demonstrate successfully completed past pressure wash projects by showing before and after pictures for example and also own certificates.